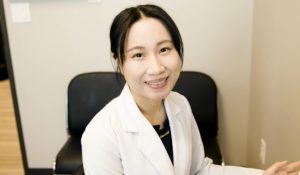 With the arrival of fall comes the abundance of pumpkins. Susan Ly Johnson, OD, MPH, FAAO, spontaneously thought of a pumpkin-decorating contest after seeing an array of pumpkins at her local supermarket. What she didn't expect to harvest was the reaction.  "It was intended to be a friendly competition among my staff, but we now have hundreds of voters participating in the contest," she says.
BEHIND THE SCENES
Dr. Johnson opened her practice Boerne Vision Center in Boerne, Texas, in 2018 and expanded to open a second location in 2020. Wanting to promote camaraderie and teamwork between her two locations, she opened the art contest to all of her staff. The contest was optional, and if team members did not want to participate themselves, their family members were welcomed to substitute.
Along with the pumpkins, Dr. Johnson provided paints and office space. Yet, most staff members took the contest to heart and took the pumpkins home to shine their inner art skills. From Disney characters, such as Olaf and Maleficient, to Halloween-themed designs, the finished products were truly mind-blowing, she says.
In order to ensure a fair game, Dr. Johnson provided some simple ground rules. Anything can be glued or painted onto the surface of the pumpkin, but no carvings were allowed. She wanted to avoid rotting, pumpkin stink or bug-magnets. Finished projects had to be turned in by Oct. 22, 2021.
"I wanted to keep things simple and sweet, so the staff was welcomed to bring their finished designs to the office or merely submit photos," she says.
READY, SET, VOTE!
Voting is done both online and offline. Walk-in patients have a chance to view the pumpkins and submit their votes in a box. A basket of candy, handily positioned next to the voting box, successfully grabbed the attention of young patients. "A lot of my older patients also showed great excitement. It puts them in a Halloween spirit and reminded them of their childhood," Dr. Johnson says.
All entries were also posted to the practice's social media platforms, so patients could vote online.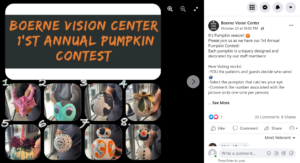 The online interaction turned out to be a huge marketing hit. As of Oct. 27, 2021, the practice's Instagram post has more than 100 comments and 35 likes, and their Facebook post has 30 comments with eight shares. Combined with in-person voting, Dr. Johnson says she is expecting to have approximately 500 votes by the deadline of Oct. 29. "The wave of attention makes it hard to keep track of all the votes, but I'm pleasantly surprised by the turnout," she says.
With the great hit of her pumpkin contest, she is planning to host it annually and host similar events on holidays or special events.
"I recommend it to my colleagues. It's a great way to interact and have fun with your staff while also promoting your practice in a fun and genuine way," Dr. Johnson says.