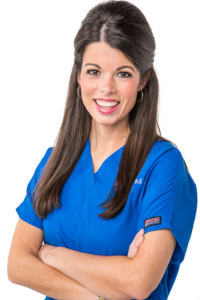 Lindsey A. Bull, OD, FAAO, has seen some major changes in not only the way she interacts with patients in a COVID-19 world but also in her patients' ocular signs and symptoms, particularly with dry eye.
"At first with COVID, we didn't see that many changes because we weren't seeing that many people," she says. At EyeCare Associates of South Tulsa in Tulsa, Oklahoma, was taking limited patients for emergencies in the height of the 2020 pandemic.
"Since then, everyone's life has changed. Everyone turned to online for everything." This major lifestyle change led to a much broader demographic needing treatment for dry eye.
"It used to be that dry eye patients were the typical population of females ages 50 and up," she says. Now it's common even among younger age groups." Students were online or in a hybrid online and in-person format for the majority of the year, so the nonstop use of computer screens for all assignments, exacerbated by incomplete blinking, created an environment that contributes to dry eye symptoms.
With people so young experiencing the discomfort and possible decrease of meibomian gland function, "20 or 30 years from now, when today's students are 40 or 50 years old, we're going to see a big increase in meibomian gland dysfunction (MGD). This digital time isn't going anywhere; we're going to continue to see that increase," says Dr. Bull.
Even though there are more people who are experiencing dry eye, Dr. Bull is not convinced that a larger percentage of them are being helped. But she hopes that's changing. "This past year has shifted how we see dry eye. Now college students are saying that their vision fluctuates and their eyes feel gritty," she says. "The statistic is that almost 40 million people suffer [from dry eye] and only 17 million are diagnosed. Now we're adding the increased numbers to that original statistic. Based on that, half our patients are walking out the door without a diagnosis. How do we catch that?"
ASKING THE RIGHT QUESTIONS
Dr. Bull starts the conversation by giving every new patient a dry eye. "With new patients, we will screen them for dry eye. With returning patients, we work to get back into the relationship we had, and part of that is by asking those questions again, going back to the basics," she says.
"Our thought process is that if the patient is symptomatic, we're not just sending them out the door with artificial tears. They'll only feel some short-term relief," says Dr. Bull. "We're starting on prescriptions like RESTASIS® Eye Drops or steroids, or we're offering interventions like intense pulsed light therapy or LipiFlow or potentially punctal plugs." While manufacturers of over-the-counter redness drops have done a great job marketing their products, Dr. Bull is explicit with patients that redness-removers or short-acting tears are not addressing the underlying inflammation. That has to be addressed first.
That's true for contact lens patients, too. "The dropout rate among contact lens wearers has stayed steady for a long time, even though new products with higher oxygen transmissibility and better materials have been developed," she says. "If the lenses are better, why is the dropout rate still so high?" She makes it a point to tell contact lens patients that dry eye can impact their overall comfort and satisfaction. So again, it's important to treat the dry eye first.
DRY EYE DENIERS
That can be challenging when patients are in denial about having dry eye, particularly if their symptoms are excessive tearing. It doesn't make sense to them that dry eyes can have this result. Or their symptoms and signs are not constant. That's where technology can help. Dr. Bull can film their ocular surface and show patients how the quality or quantity of their tears is not ideal. She's also grateful that drug companies have leaned into dry eye marketing. She feels it brings more people in with questions about dry eye, leading to more openness to the discussion.
Finally, she makes time to discuss that dry eye is a chronic condition. Dr. Bull wants patients to know they should expect to be managing it for the rest of their lives. "It's important to have an honest and upfront conversation," she says. "This is not something like conjunctivitis, where we can treat it and the patient is all better."
The dry eye conversation is more similar to the conversation she has with patients about glaucoma. "A lot of patients think they'll be better soon," she says. Those who understand that their ongoing commitment to the therapy recommended will have the best outcomes – and develop strong relationships with the OD who helped them find the relief.