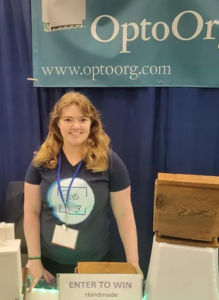 New product reinforces the message to replace contact lens cases.
Last year, Elizabeth Hunt invented the DailyLens contact lens storage and organizer. This year, OptoOrg is hard at work designing and creating upgrades and additional accessories for the dispenser, but at the same time, Hunt doesn't want monthly lens users to feel left out.
"We wanted something that was different then anything currently available on the market but that would still be a huge asset to monthly lens users and optometrists. I tried to think of the biggest problem I faced when I used monthlies myself. And that was hygiene," says Hunt.
ECO-FRIENDLY MATERIALS
Their newest product release is the EcoFriendly Seasonal Lens Case, which comes in a four-pack. The new cases are made of 100% recycled material and are seasonally themed to remind contact lens users to replace their lens cases every three months.
"In my experience, there are two main reasons why people do not replace contact lens case every three months as recommended. They forget or it feels like a waste of plastic. Our new product solves both issues by being environmentally friendly and seasonally themed."
One of OptoOrg's leading goals is to help improve patient hygiene by using fun accessories to encourage healthy behaviors in all contact lens users. Their daily contact lens organizers are aimed at daily contact users, but these new cases can be beneficial to any lens users, especially monthly and rigid gas permeable lens users.
ALSO RECYCLABLE
While the lens cases are made from 100% recycled materials, they can also be recycled via Terra Cycle's Biotrue® Eye Care Free Recycling Program. To recycle the lens cases, customers can sign up via Terra Cycle's website, or just mail the used cases right back to OptoOrg, which will get them recycled.
The new cases sell to the public for $4.99 on OptoOrg.com and will be coming soon to Amazon. The cases are also available at wholesale pricing to optometrists and optometry partners with a minimum of just 10 lens case packs. Those interested can contact OptoOrg directly by calling 855-952-6786, emailing info@optoorg.com or joining their procurement portal on their website here.
Hunt has been involved in every step of the way, from finding an eco-friendly manufacturer, designing the case lids and designing the product inserts to be produced.