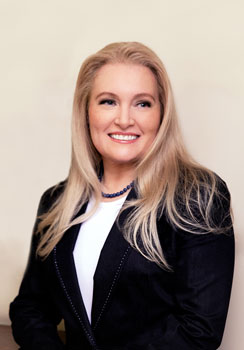 Andrea P. Thau, OD, FAAO, FCOVD, DPNAP, of New York City, begins her term now as president of the American Optometric Association (AOA), the organization's 95th, and only the second woman to rise to that role. But she's quick to say, "It's not about me. I'm part of a team of 100 staff, more than 200 volunteers and 34,000 member optometrists. We're working to ensure that our patients have access to the full scope of optometric care."
Getting to this point was no small task. Dr. Thau has served on the AOA board for nine years. "As a trustee, you're on the road between 80 and 100 days a year. I spend an additional 25 hours a week on AOA business," she says. The commitment becomes more intense as a trustee ascends to the executive committee. As president-elect, she logged about 120 days on the road, and she anticipates that will rise to 150 to 180 days once she's president.
That doesn't even reflect the commitment it took to get to the AOA board. Dr. Thau spent seven years on the board of the Optometric Society of the City of New York, 14 years on the board of the New York State Optometric Association and served as president of the New York Academy of Optometry. Dr. Thau was the first woman president of all three organizations.
Although the AOA president plays the leading role in responding to unforeseen challenges and new threats, Dr. Thau is determined to ensure that the organization remains proactive in helping state optometric associations achieve their legislative and practice authority goals and setting a Washington, DC, agenda that will boost optometry practices from coast to coast. "Although no one can predict how the national political environment will change, especially this year, we already know that AOA doctors and students will be working to educate U.S. Senators and House members about the bipartisan legislation that we support and are pushing forward. That includes the Dental and Optometric Care Access system." In addition, Dr. Thau will work to advocate particularly for children's vision and vision therapy, lifelong passions.
Dr. Thau is a second-generation OD. Her father, Edwin Thau, OD, FAAO, was a local society president of the New York State Optometric Association. "I grew up attending annual state meetings, seeing the camaraderie of optometrists and understanding that all the gains made were the result of volunteer commitment. I inherited a wonderful profession that has advanced based on his efforts and those of the many prior volunteers who came before me. I saw that I had an obligation to pay it forward."
That's the key message that she wants to impart to every OD. "You have an obligation to give back." Yet, she adds that the net result is completely positive. "You get back more than you give. I have friends in every state in the country. I've been able to see the trends in advance, and so I've been able to be proactive in my practice."
The idea that she becomes only the second woman to take the helm as AOA president is not really surprising to her. She has seen major shifts in the profession during her career. "The profession was only about nine percent women when I joined. I'd often be the only woman at association meetings, and some of the men—who knew me as my dad's daughter—spoke freely about how 'girls are going to ruin the profession.' Their fears were that women wouldn't get involved as active members or leaders and wouldn't work full time. My response to that was: watch and see."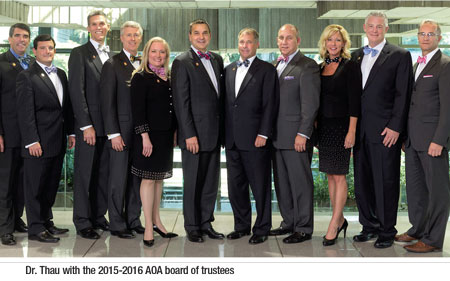 However, it's not that hearing those kinds of comments sparked a drive to one day become AOA president. "I never had the goal or dream to take this on. I just kept pursuing ways to use my talents for the greater good," she says. Someone would ask her to do something: volunteer for a committee or run for an office, and she'd say yes. "Each of those little steps sets the path," she says. She chuckles, saying, "It's easier not to do this." In fact, her election to the AOA board of trustees in a contested election was not an easy
one. "All of us who have come to these levels of leadership will say that you have to have a lot of passion and be a little bit crazy. I guess I'm just crazy in love with the profession."
That's another characteristic she inherited from her father, who tried to create mandated comprehensive eye exams for New York City children in the early 1960s. "I'm continuing the work that my dad did through my participation with the New York Children's Vision Coalition and AOA's successful efforts to define a pediatric comprehensive eye examination as an essential benefit" in the Affordable Care Act.
Although Dr. Thau has followed in her father's footsteps, she never had the chance to practice optometry with him. She was only
two years into her career when he passed away suddenly. At the time, she was a full-time faculty member at the State University of
New York College of Optometry (SUNY). She recalls the last time she saw him before he died. "He was going on vacation and he handed
me his appointment book and asked me to cover for him. He died on that trip, so literally, that's what happened. At first, I tried to bring
his patients into my part-time practice in the clinical practice plan at SUNY, but after eight months, I moved my practice out of the college and rented space from another OD. Four years later, I opened my own practice."
As she built the practice, she became increasingly thankful for her involvement in the AOA, the organization that advocates for the profession. "Studies show that AOA members make $37,000 more a year than nonmembers. I would venture that our volunteers do better than the average member because they understand what's going on. The AOA has helped me be a better practitioner and run a better business," she says.
She encourages every OD to be involved. "Not everyone can give back at the highest levels. But if you're a member, you're contributing to the team effort."