Melissa Frost, OD, knew personally about the importance of affordable health care. Before working seven years as a nurse, she was a young mom coming from a working-class family. "My dad was a teacher," she says. "We had what we needed most of the time, but it was always difficult. I became a mom at 18 and experienced not having a lot of the things that my family needed." When she was able to open her own practice a few years ago, she knew she wanted to offer low-cost eye care solutions to her community.
She spent the first decade of her career following her 2001 graduation from Indiana University School of Optometry at different practices—mostly corporate-affiliated locations—before moving to Oregon with her family. Upon the move, she found there was such a need to serve adults who had no access to eye care. In 2016, she opened Frost Eye Care in Corvallis. She made plans to do everything she could to keep eye care costs low.
At first, she was the only person in the office. She was the front desk staffer, optician and doctor. Eventually, as word spread and her patient base grew, Dr. Frost knew it was more than she could handle on her own. Earlier this year, her husband quit his teaching job to work full time as her only staff member, allowing them to keep the number of salaries and insurance coverages to a minimum, all to serve their patients.
The practice has become a true family affair, as Dr. Frost's four children, aged 18 to 33, aid her from picking out her frame collection to designing her logo and signage. As for the build out, her husband did most of the labor himself.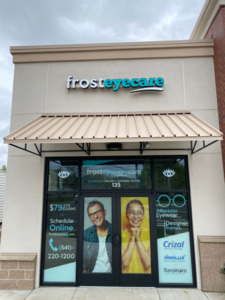 ROLLING WITH THE PUNCHES
The timing of their decision to have her husband join the team full time wasn't ideal; they have not had a chance to see patients once COVID-19 struck. Dr. Frost knows this isn't the end of the road, though. "We're going to be needed even more once this is over. The biggest impact will be the number of people who need us." With plans in place to implement new sanitation standards, patient scheduling and temperature-taking at the door, they are ready to face the new normal when the time comes.
SERVING HER COMMUNITY
Dr. Frost works with Changing Lives Through Lenses™, an Essilor Vision Foundation program that enables her to help children without coverage who are unable to afford eye care and eyewear. Through it all, serving their community is the Frost's top priority. "Remembering my experience from my early years draws me to help others who actually need it," she reflects. "It's so rewarding."