Keshia S. Elder, OD, MS, FAAO, will step into her new role as dean of the College of Optometry at the University of Missouri-St. Louis on September 1. She will be making history as the first Black female dean of optometry in the U.S.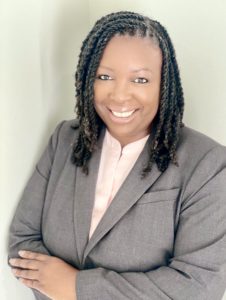 Her main goal is to ensure that the school continues to play a strong role in contributing to optometric education and training. She says she wants to make sure the school is inclusive and that all students, staff, faculty and patients feel that they belong. "I want everyone to be their authentic selves," Dr. Elder says, "especially underrepresented minorities or anyone who just feels different. I want us to have a place where people can just be who they are." 
Dr. Elder believes that anyone can be anything they want to be with the right mindset and resources. She says her mentors were vital in guiding her throughout her career, allowing her to ask questions or seek advice when needed. She also says that having exceptional mentors better prepared her to be a mentor to others. "We are all better and stronger when we work together," Dr. Elder says. 
While Dr. Elder has risen to the highest level in academic optometry, she didn't always have her sights set on eye care. She started her college career as a math education major and gained experience and connections as a student assistant. When she realized that the math world wasn't for her, she thought back to a program she attended during her summers in high school. The program was geared toward minorities and those looking to learn about different career paths. It was then that she realized that optometry still interested her- much more than mathematics ever did. She says that the experience showed her the importance of creating a network both within and outside of one's areas of interest. Those connections may help you find a profession you could never see yourself in, she says, but you could also find your dream career that you didn't even know was an option. "When you interact with the right people and have an ultimate goal of serving others and making things better, you'll end up in the right place," she says.
For now, Dr. Elder stays busy with both her career and her personal life. She recently earned the rank of professor at the UAB School of Optometry where she serves as the director of externships and the director of diversity, equity and inclusion. She sees patients with optometry students in the Contact Lens Clinic and Primary Care Clinic at the school, and she's also active in her sorority and church. She and her husband will soon be helping their two children get settled into their freshman and sophomore year of college before she relocates in mid-August for her new position. Dr. Elder looks forward to her new role and continuing to inspire those coming up in the industry, just as her mentors did for her, and prioritizing diversity, fairness and inclusion at every step of the way.