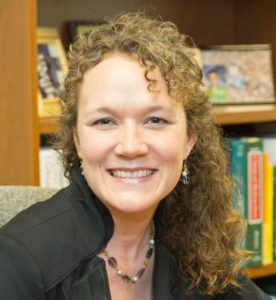 "The contact lens market for presbyopes is a huge opportunity," says Melissa D. Bailey, OD, PhD, associate professor at The Ohio State University College of Optometry. But nearly every option commercially available involves some kind of compromise. So Dr. Bailey had a graduate student survey more mature adults who were wearing eyeglasses at a science museum. Of the participants, approximately 70 percent said they would prefer to wear contact lenses. This finding convinced her there really is a hole in the market.
"I see [the same] from our advanced clinical experience, too," she says. "We knew this was a need." According to Dr. Bailey, only about 14 percent of patients with presbyopia wear contact lenses as their primary method of correction. "We know that patient contact lens wear drops off at age 40, so a solution for these patients that worked reliably could drive traffic to optometry offices ," she says.
For Dr. Bailey, the challenge was exciting. "Tech commercialization and inventions interest me," she says. She wondered why contact lens technology that works so well in gas permeable lenses had not been replicated successfully with soft contact lenses, she says. What Dr. Bailey saw was a problem with the designs that emphasize the movement of the lower lid. Traditionally, soft lenses are thought to translate by pushing up with the lower lid, yet she found that the upper lid is doing the lion's share of the work. In GP lenses, the lenticular keeps the lens suspended by the upper lid.
So she talked with Joe Barr, OD, MS, FAAO, "who has been a longtime mentor," she says. "I'd go to him whenever I needed a second opinion or consult when I started teaching. He said he has had similar experiences as what I described, so he said, 'Let's try doing it with a soft lens.'"
CREATING A COMPANY
The core technology was licensed by Lentechs from The Ohio State University Innovation Foundation. Lentechs has successfully developed what it is coining as a new generation of soft, suspended contact lens. Several patents have been granted for the lens design. Lentechs gets its name from a nod to the lenticular in GP lenses, although the Stabilizing Crest in the soft lens design isn't quite the same.
"The lens itself is named APIOCTM for Presbyopia and in the future, there will also be APIOC for Presbyopia with Astigmatism as well as lenses for single vision correction" says Dr. Bailey. "Because it's suspended from the upper eye lid, it doesn't rotate, so it's great for a toric lens." All lenses are in final clinical trials, and the company is preparing for a commercial launch in select markets in early 2022.
INSPIRING THE NEXT GENERATION
Inventing wasn't always on the forefront of Dr. Bailey's mind, but her passion for research and her creativity led naturally to problem-solving.
["It is] the ultimate translational research," a current buzz in research for doing something that is applicable, she says. "And technology commercialization is the ultimate tool."
Being so active in research and design intrigues Dr. Bailey's students — so much so, that she has gotten involved with an innovation contest sponsored by the Rick Bay Foundation.
"Ohio State faculty are expected to be responsible for research," she says. "Students are hearing it from us. This year in my course, I got to incorporate what I was working on and why."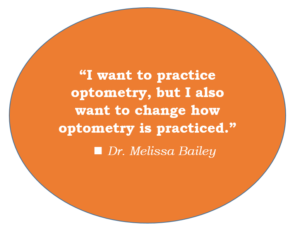 She was able to use that translational approach when describing how she wanted to improve the design and functionality of multifocal lenses. "What are the problems with the solutions we have for patients today– and what can we do to make it better?"
Dr. Bailey wants to make an impact not only with her teaching, research and inventions but with practice methods, as well. "I want to practice optometry, but I also want to change how optometry is practiced," she says.