One reason the InfantSEE program is special, says Mary Gregory, OD, is that it answers questions about healthy infant development that many new parents don't know they should ask. "They have no idea what we can determine in an eye exam."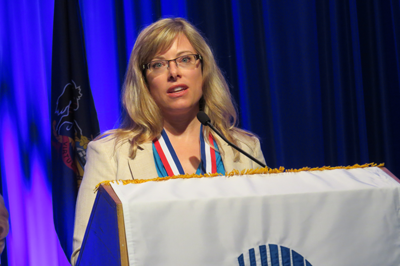 Dr. Gregory is a leader in the InfantSEE program, which provides no-cost eye exams for infants in their first year. The program was launched in 2005 by the Optometry Cares—The American Optometric Association (AOA) Foundation with the goals of providing early detection of eye and vision problems and encouraging parents to include regular eye exams in their child's health care.
Her passion for InfantSEE efforts has helped make Minnesota among the top states involved in the program. At her practice, Uptown Eye Care, in Monticello, Minn., she conducted 82 of the 641 InfantSEE exams done statewide in 2013, and this year, by the end of the summer, she had done about 100 exams. Dr. Gregory also has designed InfantSEE recruitment programs for the Minnesota Optometric Association and created a kit for ODs to use in their offices to promote early childhood care.
She was honored in June at Optometry's Meeting® in Philadelphia, where she received the Dr. W. David Sullins, Jr. InfantSEE Award for outstanding public service with the InfantSEE program. "I feel so fortunate to have the prac- tice that I have and to make such a difference in children's lives," she says.
Comprehensive eye exams in infants and children are essential because some vision problems won't show up in well-baby checkups. According to InfantSEE, one-in-20,000 babies has retinoblastoma, one in 25 will develop strabismus, and one in 30 will develop amblyopia. "I find a possible concern or potential problem in about one-in-10 babies," she says. Parents are almost always caught off-guard. "They have no idea about vision development," she says.
She talks frequently to parents' groups and other organizations in her area about the need for infant exams. She's also developed a connection with one of the main pediatricians in Monticello, who encourages his patients to get the infant eye exams when they come in for their six-month well-baby visit. "I've spent years volunteering to talk to anybody who will listen about how important this is, and it's really paid off," she says.
Even if a child has no vision issues, the exams "are a great opportunity to educate parents about the next developmental steps and what to watch for," she says. Parents of children who undergo the exams often become her best advertising. "It's the parents who are really passionate about spreading the word about this," she says. "It's not uncommon for me to have a parent who sends in about 10 more parents in the next six months."
As children enter school, vision problems are sometimes the cause of other problems, such as reading comprehension or behavioral issues. "They just don't think that vision could be an issue with a behavior in the classroom or with a learning disability—especially with boys," she says. "Parents think, 'He's a boy, and he's just like that.' They get mislabeled so easily as Attention Deficit Disorder or dyslexia, and often it's a visual issue. It doesn't have to be a lifelong problem."
Dr. Gregory is a Minnesota native and a graduate of the University of Missouri—St. Louis, College of Optometry. She's been at Uptown Eye Care since 2002 and is now co-owner of the vision Source® member practice. She also has a second location, the Omni vision & Learning Center, also in Monticello. The focus there is on both pediatric care and providing rehabilitative therapy for children and adults who have had a serious brain injury. There's a certain overlap between children with vision problems and adults with brain injuries, she says. "A brain injury can revert your visual skills back to like a child of 4 or 5 years old," she says. Patients at the Omni vision location receive rehabilitative therapy and also tutoring that includes visual learning, "which is something you don't always get in the classroom," she says.
Dr. Gregory encourages other ODs to get involved in the InfantSEE program. "Talk to daycare providers and preschool teachers, telling them this is a free public service you're offering," she says. ODs unfamiliar with infant exams can benefit from shadowing a more experienced OD. "The more exams you do, the more comfortable you'll be with talking about it and educating people. Word will spread quickly."