Barbara Horn, OD, a diplomate in the American Board of Optometry, recalls that in her very first week as a student at Michigan College of Optometry at Ferris State University, she needed a subject she could discuss for 10 minutes. "I picked the alphabet soup of organized optometry: AOA, AOSA, AAO, ARBO, ASCO—and those are just some of the letter A. They were all initially confusing to me," she says. "As I was preparing, I realized how critical each one was to optometry, as each represented different aspects within our profession. However, only one of those organizations safeguards and advances the profession, allowing us to practice the way we do today." At that moment, she became forever devoted to the American Optometric Association (AOA) and its affiliates, not envisioning that the mentorship and help she gained along the way would one day lead her to become the new
AOA president.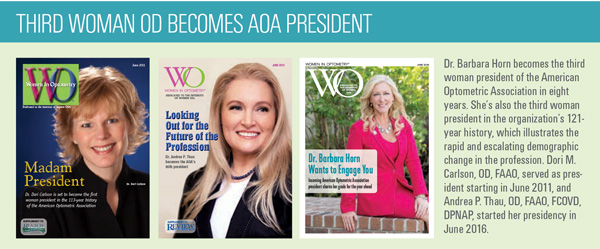 "I didn't set out with a goal of rising through the executive positions. I was proud and happy to take on the opportunities as they came along," she says. Those included becoming Michigan Optometric Association (MOA) president in 2009, 11 years after she graduated. "It just evolved," she says.
Dr. Horn becomes the third woman president of the AOA when she is inducted this month. The possibility exists that there could be five women AOA executive board members, a number unmatched in history. Jacqueline Bowen, OD, FAAO, of Greeley, Colorado, is currently serving, and three other women are on the slate of candidates: Lori Grover, OD, PhD, of Chicago, Illinois, is seeking re-election; and Teri Geist, OD, of Omaha, Nebraska, and Terri Gossard, OD, MS, of Cincinnati, Ohio, round out the slate of women ODs running for a trustee position. While this level of representation does seem to be inevitable, considering that Dori Carlson, OD, FAAO, became the first woman OD as president just eight years ago, the shift is accelerating.
Dr. Horn notes that the opportunity comes at just the right time for her, personally and professionally. Her professional career path has taken some unpredictable turns. "Right after graduation, I moved to Colorado. I figured, 'Now's the time' to live and work somewhere different," she says. After some time there, she moved back to Michigan to be closer to family. "A year after I got there, my brother moved out of the state," she says, noting that not all plans work perfectly.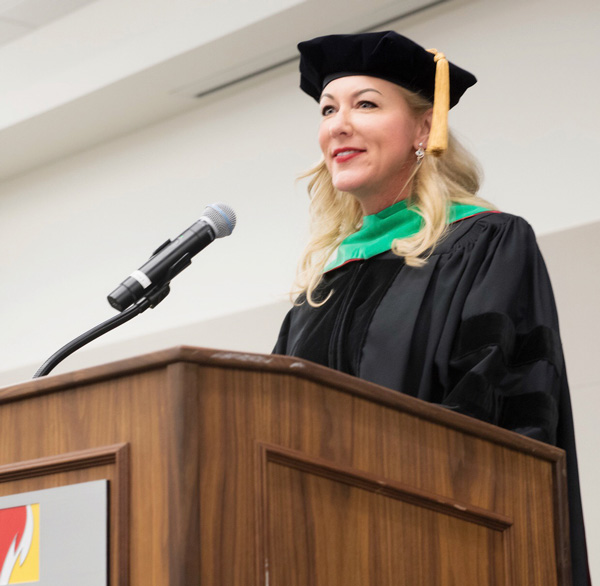 She loved the Michigan summers, though, so she settled into a career there. In every practice situation, she found time to volunteer—some years doing more and some doing less, depending on the other commitments to work and family. Over the years, she has served on numerous committees in local and state societies. Besides becoming MOA president, she was honored in 2005 as the MOA Young Optometrist of the Year and, in 2006, the AOA awarded her Young OD of the Year. In 2011, she began serving on the AOA board of trustees and also earned the MOA's Optometrist of the Year, and in 2018, the South Carolina Optometric Physicians Association honored her as Optometrist of the Year.
Dr. Horn encourages optometrists to try different practice settings and modalities because nearly every situation has lessons to
teach. She's worked in a laser center, owned a practice that she eventually sold after a decade and has worked in practices owned by others. "All of these practice settings have provided me with perspective and experience that have brought me to where I am today," she says.
She is now working in Myrtle Beach, South Carolina, where the owners are accommodating the travel schedule and other
commitments that being AOA president-elect and president require. "Usually I have several months' notice for events and speaking engagements, so I try to block the time carefully. My schedule is very busy when I'm in the office," she says.
She adds travel time to some of her travels, too, taking her children, now 12 and 15, with her when possible. "I have
terrific family support. We moved my mom here, and she's just a few miles away, so she helps with the kids every day," she notes.
That kind of support network is essential as she prepares to dive into the role of AOA president. The rule of thumb is that the AOA
president typically has 140 travel days per year, about double what a trustee on the board sees. The president-elect year is also filled with travel and events.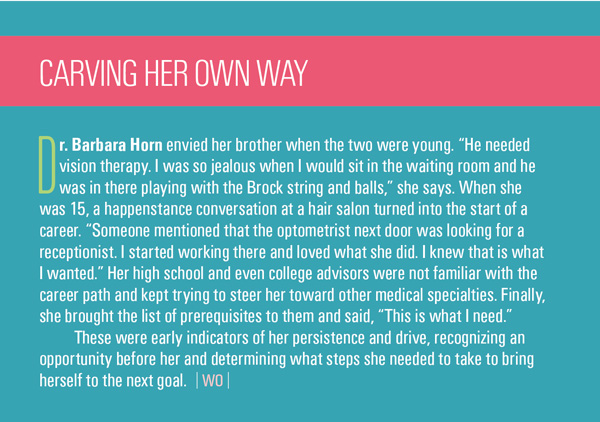 In addition to reacting to the legislative winds that may come in the next year, Dr. Horn is excited to continue to support the Future Practice Initiative, an effort launched by the AOA in 2018 as a concerted effort to further optometrists' ability to practice the health care they are educated and trained to provide. The AOA is providing a range of resources to boost state affiliate efforts and help produce legislative wins that will define eye health care delivery and support optometry's essential and expanding primary care role well into the future. Begun under the tenure of the AOA's immediate past president Samuel D. Pierce, OD, the initiative has seen a number of legislative wins, and Dr. Horn looks forward to seeing those continue. "Even from my days of being a state president in Michigan, it's been one of my goals to invigorate young ODs and keep them involved in the optometric family. To that end, we'll be holding board meetings on campuses of optometry schools and colleges, working to include the faculty and show students the value of involvement."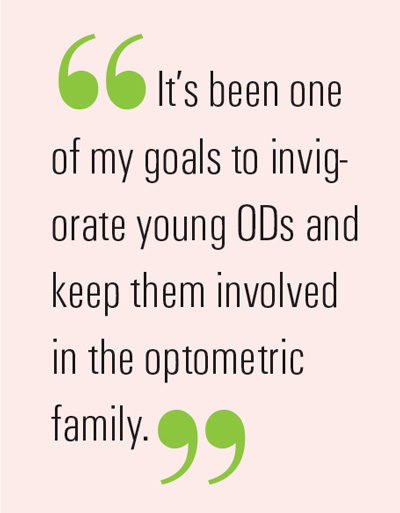 The opportunities for optometry are at an all-time high, she says. "This is our moment in time to promote in-person, comprehensive eye exams. We need to educate the public, as well as local primary care roviders and pediatricians, about what optometry is and what we can do," she says. "We will make 2020 the year of the eye exam in America. We are getting the message out to every audience across the country, creating resources for AOA members to be able to get the word out to other providers and employers, launching a #2020EyeExam media advocacy campaign and working together with Think About Your Eyes to promote the important care AOA doctors of optometry provide to Americans."
In terms of getting the students more invigorated with advocacy, the AOA is continuing its AOA+ program for new graduates as a way to encourage them to stay connected and active. AOA+ offers networking opportunities and more. "In 2020, when we hit Capitol Hill in Washington, DC, with the Rally on the Hill, we will have a huge AOA presence there."