Estimates say 58 percent of U.S. residents are expected to have myopia by 2050, so there is an urgency to increase education and recognition on contact lenses and myopia management. On Nov. 15, CooperVision launched a Student Myopia Leadership Society, which joins the Student Contact Lens Leadership Society. Selected students from each of the 23 colleges and universities across the country and Canada receive several opportunities to interact with peers, learn from experts and improve their understanding of evidence-based science and technology.
BREAKING AWAY FROM SOFT LENSES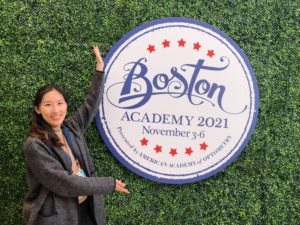 Only being familiar with soft contact lenses, Jina Chong, a third-year student at the University of California, Berkeley School of Optometry, was fascinated to learn that there were a lot of contact lens options available, such as hard and scleral lenses. Wanting to learn about the technologies behind contact lenses while she was still in her first year, she reached out to an associate clinical professor, Kathy Tran, OD, FAAO, who was recruiting a contact lens assistant. That led to a nomination to the CooperVision Student Contact Lens Leadership Society in her third year.
"Being part of the program elevates my education in so many ways, both inside and outside of the campus. I'm already exposed to the different types of contact lenses and the innovations behind them, allowing me to tap into contact lenses deeper than before," she says.
PERSONAL EXPERIENCE RAISES CURIOSITY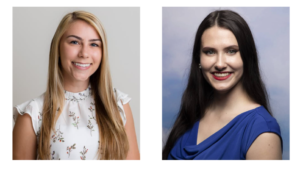 As a high myope, Julia Campbell, a third-year student at the University of Houston College of Optometry, and Allison Hyttinen, a third-year student at Michigan College of Optometry, wanted to delve more in-depth into myopia management so they can be prepared to manage patients who are in similar situations.
When Campbell's contact lens director nominated her for the program, she was overjoyed to get exposure to myopia and specialty contact lenses. "I've joined the program this fall semester, but I already feel more confident in my clinical skills," she says.
Hyttinen learned about the program through Justin Kwan, OD, FAAO, senior manager of myopia management at CooperVision. When her contact lens professor mentioned it, she leaped and landed herself a position.
The program was the perfect chance to supplement Hyttinen's in-class learning. "The society places me in a position where I can learn about myopia management and learn about different contact lens products in the market," she says.
GOING BEYOND CLASSROOM DOORS
Students have the opportunity to attend educational industry events to expand their knowledge and network by interacting with experts in the field and fellow students. All three students attended the American Academy of Optometry (AAO) and participated in lectures and meetings that they would not have been able to access on campus.
"I enjoyed meeting with leaders and connecting with like-minded students, who I know I'll rely on for the rest of my career," Hyttinen says.
"It was refreshing to attend the AAO, especially during the pandemic where it's hard to meet other people than your usual connections. Seeing the huge scale and industry leaders made me honored to be part of a big presence and motivated me to advance into the field," Chong says.
A STEP CLOSER TO THEIR GOALS
CooperVision's Student Leadership Societies offer all students the opportunity to pursue a certification, which allows them to prescribe contact lenses to patients upon completion. Expenses are covered by the program and students can get certified while being in school. All three students are currently working towards the completion of the certification.
The certification will be a great asset to the trio who want to extend their education and practice to the full extent of their license. All three students want to pursue a residency, and Hyttinen also envisions herself opening or joining a practice in more rural northern Michigan so residents will not have to travel a long distance to receive specialty fits.
The program "has greatly helped me make the best recommendations for my patients. Knowing that the contact lens industry is continually evolving and providing better options for our patients is rewarding and keeps the profession exciting," Chong says.
"Some schools have clinics specializing in myopia management, but several don't. As much as myopia is becoming increasingly prevalent in society, I'm grateful that the leadership society brings attention to myopia and works toward change," Campbell says.