This story was originally published in our Women In Optometry 2020 Gift Guide.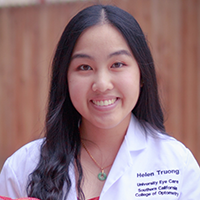 In her sixth grade yearbook, Helen Truong noted that she would be an optometrist when she grew up. "Back then, I was intrigued by all the fun gadgets and tools optometrists used everyday in their jobs," she says. "Today, I am still fascinated by the advancing technology optometrists can utilize to provide non-invasive solutions to treat eye conditions and maintain patient's health. I love how optometrists specialize in understanding and exploring the keenest sensory system to preserve people's health and vision." Truong is currently a second year student at Marshall B. Ketchum University Southern California College of Optometry.
Her shop, Eye for Detail, was born during the middle of quarantine when she couldn't find great diversity in optometry-related pins for her white coat. She decided to put her creativity to the test, using Adobe Illustrator to make vector design files that are then sent to the manufacturer to produce.
FAVORITE CREATIONS: Pins, key chains and badge reels.
SHOP NOW or CONNECT ON INSTAGRAM @eyefordetail.ht