When Damaris Raymondi, OD, of Metropolitan Hospital, part of NYC Health and Hospitals, looked around, one thing was clear: there was a prominent lack of knowledge about eye health among patients and even among some medical colleagues.
She started with an Instagram account, @NewYorkEyeDoc, to educate her followers in a fun, trend-worthy way. While building her social media presence, she met other like-minded optometrists and medical professionals. From there, her following grew into a podcast, titled the same. "I knew going about it at a micro level is going to impact day-to-day lives," she says. One of her podcast mentors and contacts, Gary Vaynerchuk, internet personality and social media expert inspired, inspired her with one of his lines, "Everyone has a story to tell."
What Dr. Raymondi soon found out was that creating consistent and meaningful content is an ever-evolving relationship. "It's like any relationship—it takes work." She also discovered the benefit of podcasting is the accessibility and relevance in how Americans are consuming content. "Voice is the future," she says, pointing out that people can access the material easily as well as have it on while they accomplish other tasks. "I had to ask myself, 'How do I consume content?'"
While the podcast has found itself a fan following and Dr. Raymondi now has an Instagram following upwards of 5,000, she herself has been a beneficiary of her own attempts to reach out and educate others. "I wanted to share everyone's story, but it turned out to be a great way to continue to inspire myself," she says. "It helps me get excited and move forward."
WHO'S OUT THERE?
Dr. Raymondi has a wide variety of guests on her program—not just optometrists—and the same pattern is true for her listeners. "It's a lot of young people—30s and under, a lot of up-and-coming health care students," she says. The life-long learning process doesn't exclude Dr. Raymondi either. "I've learned so much," she says. "[I had on an] endocrinologist; I thought we would talk about weight loss and healthy eating, but there was so much more."
Another population Dr. Raymondi is particularly moved to speak to is the Latina population. These guest have inspired her, too. One guest was fellow Latinx and Miami, Florida family physician, Dalian Caraballo, MD, who said, "I'm so proud. It's hard, but I'm doing this. I'm going through this barrier and I am going to make it. I am grateful to be able to represent us as a Latina in medicine, because I know we go through a lot."
Dr. Raymondi also has increased her own awareness to issues. To add thoughtful posts on social media based around current world news, she needs to stays relevant and inspiring.
"It gives everyone a new perspective," she says. "A lot of publications feature just men, and in podcasts from all industries, it's men interviewing men," she laughs. "There's a lot of amazing women." But there is even more reason behind having guests that represent different communities and ethnicities. "I'm just making myself the norm. It's something I am proud of and I want people to get used to seeing us."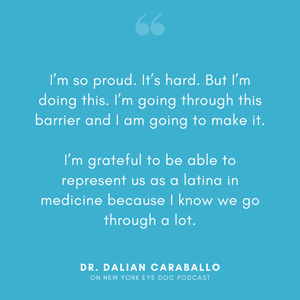 Listen Now
Listeners can find Dr. Raymondi's podcast New York Eye Doc on Apple Podcasts, Spotify, Google Podcasts, Breaker, Anchor, Overcast, Pocket Casts and Radio Public. She invites you to listen to one of her favorite episodes with Dr. Sonya Malani.