This story was originally published in our Women In Optometry 2020 Gift Guide.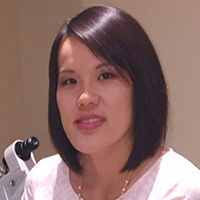 Lydia Liu, OD, of Sarena Eyecare in Park Ridge, Illinois, has always found the eyes very fascinating, starting with her early need for vision correction as a child to her passion for practicing optometry. A self-proclaimed "eyewear addict," Dr. Liu says that she's collected many pairs of eyeglasses and eye-related objects over the years.
Now, one of her hobbies includes art and design, which launched her Boss Lady line. The collection includes enamel pins and vinyl stickers. "Each piece I design has a meaning or message that I try to instill," she says. For example, the 20/20 pin represented the year of optometry, followed by 20/20 Strong in response to COVID-19. The Boss Lady pin represents all the women who make things happen at work, home or in life.
Dr. Liu is raising her small children and managing her private practice, but when she can, she has been enjoying this balance for her personal time.
SHOP or CONNECT ON INSTAGRAM @bossladyOD