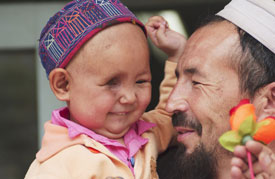 Pakistan faces significant challenges to vision health. Nearly one in 10 people in Pakistan are visually impaired, including more than 2.6 million children, often from preventable causes.
About 40 percent of the 1 million people living in the Quetta district alone of Pakistan are children. Not only are there not enough optometrists to see these children, there's little awareness about children's eye health issues.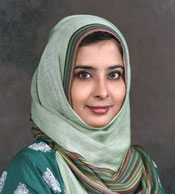 That's why Fatima Zehra, a Pakistani optometrist, is monitoring, providing technical assistance for and supervising a project to reduce childhood blindness by identifying children with vision and ocular health problems early. Zehra explains, "The school screening project is working to train 2,300 teachers, 930 community health workers and 70 technicians and paramedics in vision testing and primary eye care knowledge. They will screen the children in the schools and in the communities," she says. Optometrists will see those who have been identified with refractive errors or other conditions, and those who need even more help will be sent to one of two hospitals involved. Children will be provided with eyeglasses, surgery or low vision devices, as needed.
The project is managed by Sightsavers International, the nonprofit organization for which Zehra works, and is funded by the U.S. Agency for International Development's Childhood Blindness Program. The organization is working the project in stages; it has met the first milestone of establishing an optical lab at the public hospital and beginning the training of screeners.
Sightsavers has been working in Pakistan since 1998, working closely with government departments and local organizations to create a quality, accessible and sustainable eye health infrastructure. Since then, blindness rates have decreased by more than 50 percent, but Zehra and her colleagues still have plenty of work ahead.
For more information, visit sightsaversusa.org.
Photos: ©Jamshyd Masud/Sightsavers