By Nadia Virani, OD, Vice President of Operations- EVP Eyecare
We just returned home from a once-in-lifetime vacation to the Balearic Islands in southern Spain. The island of Majorca holds vast history and a colorful culture and is the first trade center between northern Africa and Europe. The region of southeastern Spain is widely regarded for its warm Mediterranean climate, tapas, legendary architecture and people that seem to delight in meeting others and experiencing life together. You somehow just feel differently in Spain – a certain closeness and warmth that can be captured in the Spanish word cercania.
Cercania inspires intimacy among its people and, refreshingly, with the present moment.  And there is nothing better than enjoying these moments with a glass of sangria, the fabled cool and refreshing Spanish wine drink made with a variety of wines and mixed fruit juices.
In this article we'll explore the wine-based punch sangria. Sangria has roots imbedded in our world's history and is a common finding nearly everywhere we turn today.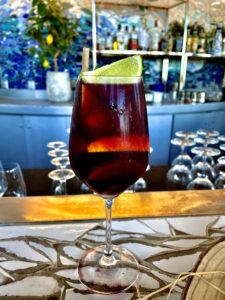 While sangria is unlikely to meet the standards of your stereotypical wine connoisseur, it is a fun drink with a rich history dating back 2,000 years, when the Romans marched across Spain. As the Romans made their way across the Iberian peninsula, they had few clean water sources so they would plant vineyards and use the wine alcohol to disinfect the water, adding fruit and other spices to mask the taste of the biting alcohol.
Sangria gained popularity and officially made its way westward to the United States in 1964. Sangria made its debut at the World's Fair in New York, New York, when the Spanish World area served the punch to their visitors. It continued to gain traction and has now become the summer drink of choice for many across our country.
Today, sangria combines either white or red table wines with fruits and spices. In Spain, locals typically age the fruits and spices such as nutmeg along with the wine in a large vase so that the drink is flavorful and rich in taste. Some recipes even add in a splash of brandy to enhance the flavor. The drink is served with ice in a festive ritual that celebrates togetherness and the joy of a long summer evening.
To make Aballo's Base Sangria, you'll need:
–          Large bowl/pitcher
–          750mL bottle of dry Spanish red wine
–          ¾ cup orange juice
–          ¾ tbsp brown sugar
–          1/3 cup brandy
–          ½ medium apple (chopped)
–          ½ medium orange sliced (rind on)
First, vigorously muddle your apples, oranges (alongside any other fruit/spices you choose to add) and brown sugar in a large pitcher. Muddling brings out the flavor of the ingredients you choose to add.
Get creative here! Based on preference, you can choose to add in any other fruit here including berries, peas, grapes, pineapple or mango- whatever your heart desires. Spices you may also want to experiment with include cinnamon, cloves or anise.
Second, add the dry red wine, orange juice and brandy into your mixture and muddle again.
The additional ingredients here all add sweetness to this drink, so sticking with a dry wine is usually a good rule of thumb. I would recommend a dry Tempranillo or Garnacha.
Finally, cover the pitcher and place in a refrigerator until ready to serve. The longer the sangria sits, the more wine soaks into the fruit – Aballo recommends three to four hours.
When ready to serve, pour over ice, add in a splash of club soda, garnish and enjoy!
This traditional recipe along with a dash of your personal creativity can bring a little bit of cercania back to our busy lives at home. I hope you enjoy these long hot summer nights with a cold sangria in hand and Spain in your heart!
Missed previous installments?
Read the story about how and why Dr. Virani became a wine sommelier here.
Read Dr. Virani's wine fun facts here.
Looking for a romantic, date-night wine? Read Dr. Virani's choice here.
A white burgundy is a perfect après-ski wine. Read about Dr. Virani's choice here.
A delicious tempranillo  is a great way to welcome the warm days of spring. Here's Dr. Virani's recommendation.
A cabernet sauvignon that is nearly a meal in itself. Read her recommendation here.
Read why summer, optometry and Riojas are a heavenly combination here.