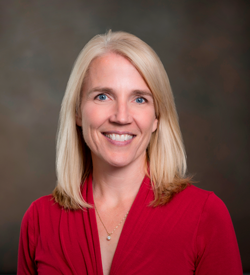 When Danica Marrelli, OD, FAAO, graduated from optometry school in 1992, many optometrists were not treating patients with glaucoma. But she completed a residency in ocular disease at a VA health center in Baltimore, Maryland, and that began her own interest in practicing to the fullest extent of scope possible, even if that meant treating patients under the supervision of an ophthalmologist.
As a clinical professor, assistant dean for clinical education and director of the Ocular Diagnostic and Medical Eye Service at University of Houston College of Optometry, she makes it a point to tell students how important it is to push for scope expansion because being able to do more for patients—especially in rural and underserved areas—is so important. "Optometry can play a huge role in glaucoma management," she says. "As our population ages, allowing people to access care in optometrists' offices has been easier for many than trying to get to an ophthalmologist's office. Plus, it's a great opportunity for optometrists to create a lifelong connection with patients."
EXCITING DEVELOPMENTS
The tools that Dr. Marrelli has available to her now—on both the diagnosis and treatment sides—are ones "I would never have dreamed of when I was a student. Spectral domain optical coherence tomography has made such a different in being able to diagnose and intervene earlier," she says.
The past three years have also seen a resurgence in research and development on drugs and combination drugs that are effective and easy. "Between the advances in diagnostics and treatment options, I'm able to keep patients in my office longer." In addition, there are surgical interventions under development that can revolutionize treatment even more.
THE SATISFACTION LEVEL
Dr. Marrelli says that she gains tremendous personal and professional satisfaction from managing glaucoma. "It's one of the most satisfying things to do. First, I love the personal interaction I have with my patients. I see patients with refractive errors once a year, but I'm seeing my patients with glaucoma two, three or four times a year –year after year. The relationship that develops there is a highlight of taking care of them," she says.
She also appreciates the professional challenge. "I never get bored managing patients with glaucoma. Every patient is different, and the treatment options depend on the stage of the disease, their socioeconomic situation and other health concerns. I have to be on my toes," she says. "It makes my day so much more interesting."
KEEP LEARNING
Dr. Marrelli encourages optometrists to embrace patients with glaucoma. "More ODs are managing glaucoma than they were 15 years ago, but there's still a practice pattern to diagnose, try one medication and refer to an ophthalmologist if there isn't an immediate impact," she says.
Doctors should know that many glaucoma patients may need more than one medication to reach the ideal intraocular pressure. "Don't be afraid to use more than one medication. There seems to a reluctance to try strategy B if strategy A didn't work. We have so many excellent drugs that work well together, so I encourage doctors to stretch their knowledge."
There's plenty of help, too, she says. "From your drug representatives to CE sessions at every meeting, there is no lack of resources available," she says. Ask questions, attend lectures, learn the capabilities and limitations of the technology you have, she says.
The more optometrists can do for their patients, the greater their value. "Optometrists already have an established relationship with their patients. There's no need to send them away for glaucoma management. Doctors can continue that relationship in a new way. And think of how wonderful that is for the patients, who are able to see the doctors that they're comfortable with, right in their own town."