By Nadia A Virani, OD
Vice President of Operations- EVP Eyecare
As the summer months roll in, we find ourselves sheltering from the heat and excitedly planning our summer vacation. Tonight, we are sipping on a La Rioja Alta Vina Ardanza 2012 Reserve as we chat about where we envision ourselves exploring this year, as the COVID-19 pandemic has kept us tucked away from most international travel. We choose to escape for a week or so and chase beautiful views mixed with a little art and a dab of genius.
We sip on our Rioja and toss around ideas of exotic lands and far-away places, and we find ourselves gaining enthusiasm as we narrow in on Spain.
I start to do my research, but first I find myself meandering the internet, learning about the optometry scene in Spain. Thought you may be interested…
Did you know that Spain has the highest number of optometrists per 10,000 people at 3.64? This is compared to 1.75 in the United States. Although this caught my eye, it is likely because there does not seem to be a true distinction between optometrists and opticians in Spain.
I also learned that the Spanish National Healthcare System is state-run and guarantees universal coverage and free eyecare access to every Spaniard. However, if you are in need of anything outside of refractive care- a medical examination of any nature, or required ocular medications, surgical evaluations, or treatment of a ocular condition- you would have to go through a general practitioner and gain a referral for an optometrist specialist. Wait times to see an optometrist or an ophthalmologist may be long and tedious due to this clause, with no obvious way around it other than purchasing pricey private insurance plans. Only a small number of Spaniards opt for this option.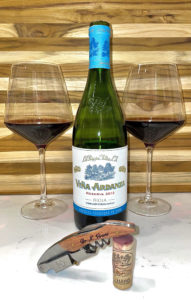 Back to the wine!
The La Rioja Alta vineyard won fourth place for the World's Most Admired Wine Brands in 2022. This has been published for the last twelve years by Drinks International and ranks the 50 most prestigious wine companies in the world. On each label reads a quote from Guillermo de Aranzalbal, the current President of La Rioja Alta: "Making wine is a science, making great wine is an art."
A winemaking group formed in Haro's Station District of Rioja in 1890 by five Riojan and Basque families. The first president of this wine making group was female! Evolution of the company led them to the eventual name of the vineyard – La Rioja Alta, with their most famous brand being Vina Ardanza (the very wine we chose to quench our thirst on this summer night).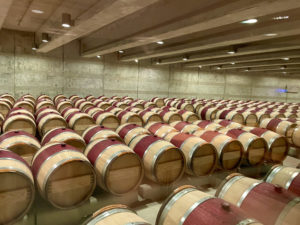 At La Rioja Alta, they limit the production of grapes in order to control the quality all the way from growth cycle to harvest. Aside from their keen grape-quality eye, they also build every barrel they use. They import the wood and then construct the barrel in-house, which includes a two-year-long drying process.
Rioja wine is predominantly made with a tempranillo grape that is widely popular in Spain. Tempranillo is an old variety with references dating back to the early 1800s. It is now the third most widely planted grape in the world and is known to be high quality but economically priced. Tempranillos are often considered the best-valued wine for its price and quality.
Spain has surprisingly beaten Italy and France in volume of wine exportation. Although Spain exports nearly 100 million more gallons of grapes compared to Italy and France, it brings in about a quarter of the sales revenue.
The economics lies in the fact that most exported Spanish wine is sold in bulk. Selling in bulk is popular in Spain because although they have the highest amount of vineyard area in the world (2.4 million acres), selling in bulk allows for quicker and easier sales as they do not have to bottle, market or distribute it themselves. France is the biggest buyer of Spanish wine; they are known for purchasing it cheap, rebottling it, and selling it for a higher price as vin table wine.
Next time you find yourself daydreaming about your next vacation spot, opt for a glass of this highly acidic, medium bodied, crisp-with-subtle-notes-of-plum La Rioja Alta Vina Ardanza 2012 Reserve.
Missed previous installments?
Read the story about how and why Dr. Virani became a wine sommelier here. 
Read Dr. Virani's wine fun facts here.
Looking for a romantic, date-night wine? Read Dr. Virani's choice here.
A white burgundy is a perfect après-ski wine. Read about Dr. Virani's choice here.
A delicious tempranillo  is a great way to welcome the warm days of spring. Here's Dr. Virani's recommendation.
A cabernet sauvignon that is nearly a meal in itself. Read her recommendation here.