2022 Gift Guide Feature: Looking for the men's retina eyeball sneakers? Find them here!

Browse The Grateful OD store here.

And be sure to check out Dr. Sou's story below!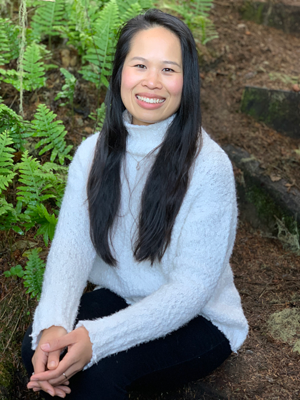 An attitude of gratitude goes a long way for Yen Sou, OD, creator of The Grateful OD. The native Californian found the profession in her undergraduate university's pre-optometry club, U See Eyes at the University of California, Irvine. "I did a lot of volunteering, particularly with Orange County Makapo Aquatics, a California nonprofit organization spreading the word about outrigger paddling to the visually-impaired community, and found a passion for optometry," she says. Following her graduation from undergrad, she worked at a private practice in Orange, California, before returning to school for her optometry doctorate at Western University of Health Sciences, College of Optometry, in Pomona, California.
During school, her grounded practice of gratefulness and vigor for life led her to take advantage of every opportunity. "I joined organizations, such as the National Optometric Student Association (NOSA) and American Optometric Student Association (AOSA), attended conferences, advocated for optometry, and met so many amazing people with whom I'm still in contact," she says. "I was open to everything optometry gave us." Dr. Sou graduated in 2019 and then took the chance to travel the country during her rotation.
"I decided to do a residency in Southern Oregon at a VA health center in Roseburg. It was a really cool experience, I dove deep into ocular disease and shadowed many surgical procedures in the eye as well," she says. "I wanted an East Coast feel—woods, a small town—on the West Coast; this is where I had my first solo-camping experience!" she laughs. Then COVID-19 hit the last quarter of her residency, and she had to switch gears from seeing patients in person to triaging symptoms over the phone and only seeing emergency patients. After finishing her residency in 2020, she came home to see what the next steps were.  Dr. Sou didn't skip a beat, though, and began covering days for local doctors in corporate practice with per diem work and currently studying to become board certified with the American Board of Optometry. She also found a personal passion that turned into a business.
JUSTICE, JOY, FASHION
"I needed a place to store all these designs in my head," Dr. Sou laughs. Thus, The Grateful OD was born. The online store, which is divided into three main categories of apparel, accessories and home/living, is all for the love of optometry. "It's about spreading joy about optometry to every other person who loves eyes," says Dr. Sou. "Going into it, I would Google 'optometry apparel' and 'eye doctor gifts,' and I found a lot of things, but not things I could use daily," she says. "What sets our apparel store apart is that we'll ensure you'll be decked out in optometry gear from head to toe!"
Community is what drives Dr. Sou when it comes to expanding her business. "What helped us launch our website and designs was to build more community and include everyone," she says. Her aim is to invite optometrists as well as family and supporters outside the profession to join in on the celebration of eye care.
As she writes on her website, "These designs are inspired by my life as an optometrist. There is also a sprinkle of social justice and a love for all health care—both topics dear to my heart. I am so delighted to be able to share my creative journey with you. Some things that describe me include gratitude practice, my journey to self-healing and, of course, all things eyes."
Some of the unisex t-shirts sport fun designs and phrases such as "One or Two," "Caffeine, Eyes, Repeat" and "Doctor in Progress." The store also boasts skirts, baby onesies, fanny packs, hats and, naturally, the most in-demand accessory of 2020: the face mask.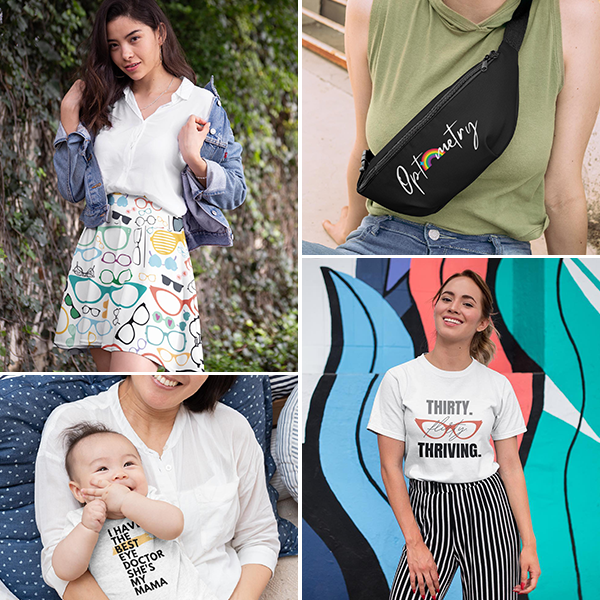 AND YOU CAN, TOO
With a positive attitude and an open mind, Dr. Sou's mindset overflows into her practice style. "When I see my patients, I try to get them feeling better [than when they came in]," she says. "I want to get to know them and listen to them if they're feeling misunderstood, trying to hear the root cause." She has found that being present with a listening ear has eased many patients' minds. "Most patients just want to be heard," she says. Her mission comes down to one main phrase: spreading joy. "I'm spreading joy in the sense of knowing I'm there to listen to them. I'm in their corner," says Dr. Sou.
For optometry students and recent graduates, Dr. Sou offers two main tenets: say yes, but protect your energy. "Going into school, I said yes more than no. I felt like it opened a lot of doors—to travel, to make friends and to learn," she says. On the other side of the same coin, though, she encourages people to preserve their energy by avoiding too many obligations. "In your second and third year, find better matching clubs," she says. "Find out what you love and head in that direction."
ALL TOGETHER NOW
Those interested in viewing or purchasing Dr. Sou's work can see more at thegratefulod.store and on Facebook and Instagram @thegratefulod. Dr. Sou is happy to take custom orders and work individually with ODs and their supporters. She also wants optometry schools to know she is open to participating in fundraising efforts. "I want to give back to optometry schools and our community," she says.
Dr. Sou hopes she can share her love for the industry. "To sum it up, I want the joy and appreciation for the whole community to resonate from the brand."