Going back to school this year will be challenge for many, as regulations vary per school district and state and parents struggle with decisions about how to balance their children's new schedule with their own work responsibilities. WO spoke with several ODs, who shared their plans for their own kids, as well as how they are making the office environment flexible to the needs of their employees.
Micro School Concept Relieves The Stress For One OD's Employees
Let's face it; this is an uneasy time for everyone—from students and children whose lives have been completely disrupted to working parents trying to figure out how to maintain balance.
Lena Walker, OD
, was coming to the New Normal from two perspectives: a parent and a practice owner.
Read more from Dr. Walker. 
Class Starts In The Breakroom At 8 A.M.
Tania Sobchuk, OD
, saw that her employees who were parents of school-aged children were struggling when schools switched to a virtual learning format in the spring.
Read more from Dr. Sobchuk.
Back-To-School Exams Take On Additional Counseling Element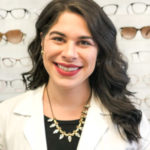 Unique times call for unique measures. Knowing that some students will be learning in a socially distanced way, Tina Douroudian, OD, strives to make an individual plan for each student. Read more from Dr. Douroudian.