These four doctors shared how they connect and impact the communities where they practice.
Seven Times a Santa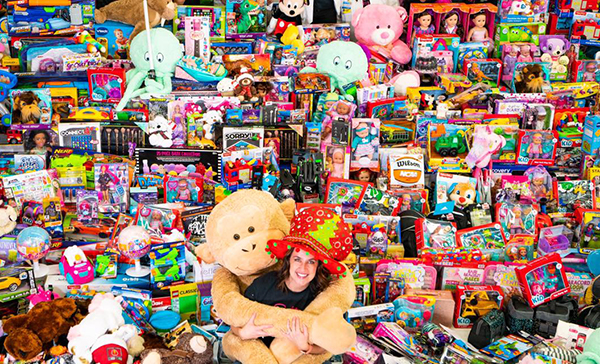 'Twas the Sight Before Christmas, when all through the store, patients will be stirring much earlier than the norm. For her 7th annual toy drive benefiting Toys for Tots, Shauna Thornhill, OD, will open the doors to her office at 6 a.m. on Saturday, Nov. 17. Dr. Thornhill and her associate Carson Gee, OD, will provide eye exams in exchange for toy donations all day until 10 p.m.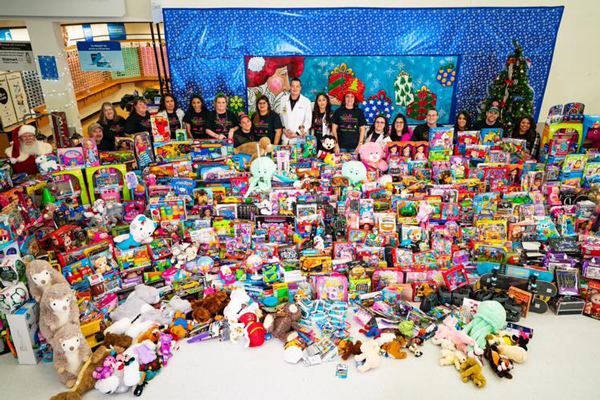 The event previously took place at both of Dr. Thornhill's office locations inside the two Walmart stores in Amarillo, Texas, but this year they are consolidating the effort for the fundraiser, which has grown each year since its start. In 2017, the doctors saw 220 patients and collected 8,046 donated toys. "At an average of $18 per toy, that is more than $144,828 in toys," Dr. Thornhill says, and they performed $19,800 worth of free eye exams.
This year, Dr. Thornhill will welcome back local high school students to advertise the fundraiser with giant sidewalk art murals, and entertainment will be provided by local singers, Miss Latinas, a dance academy and a caroler group. Other special guests will be from the local fire department; the Chic-Fil-A cow; the Marines, including a recently discharged Purple Heart recipient; and of course, Santa Claus, who will do a story hour each hour for the children.
The cause has a special place in Dr. Thornhill's heart, who grew up in Amarillo in poverty. Her parents often had to choose between spending money for rent or groceries or buying Christmas presents. The efforts of her team help many families from having to make that choice.
Leading up to the big day, her practice team is developing a creative video in hopes of grabbing the attention of TV host Ellen DeGeneres and generating national attention for her cause. Dr. Thornhill and her staff also look forward to assisting in the toy distribution this December.
---
Every Effort Counts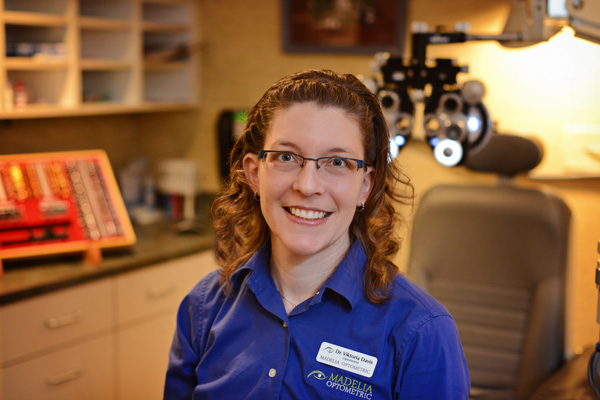 When Viktoria Davis, OD, was hired to open a satellite office in 1999, she says that she knew from the start that volunteering in the rural community of Madelia, Minnesota, would be an important component of her business. "Community service has always been a cornerstone of my life ever since I was a child," she says. "It was something my parents really believed in and instilled in my brother and me." She adds that the relationships fostered over time bring great fulfillment and success to her personally and the practice.
Giving back is embedded in the practice mission statement: Through education, community service, and charity we connect with our community to serve and foster relationships. The full mission statement is displayed in every room of the office, and monthly staff meetings are started by reading it aloud. "It's not just something on a piece of paper that we shove in the back. We really try to live our mission statement because it exemplifies who we are and what we do." She encourages her staff to give back personally or professionally, and patients frequently comment on the signage they see around the office. "They say to me, 'You really believe in this, and we can tell.'"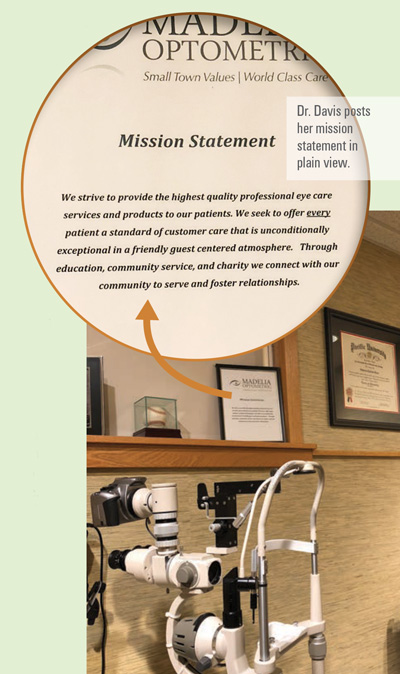 Dr. Davis focused on building relationships with the local schools and helping the young members of her town start their education with a foundation of great vision. "It's not something I do specifically to build my practice," she says. "Helping people and making sure that they get the care they need is the right thing to do." Every year, she visits the elementary school with her main technician to provide vision screenings. She's connected with an area college, and nursing students also join them. "The nursing students get more exposure to the eyes than they would in a classroom, and the elementary kids get really good vision screenings."
Over the years, Dr. Davis has developed special relationships with many in the small community of 2,400 residents. When some of these residents have passed away, the office has made a contribution to Optometry Giving Sight in their honor. "It's a token that shows the family that those patients are meaningful to us, and their eyes were important to them because they chose to come here."
Giving to your community doesn't have to break the bank or consume all of your time. Dr. Davis says that every effort matters. "For practice owners, being charitable doesn't preclude that this is a business and our livelihood," she says. "You can really make a
difference for people and their lives by giving a little bit."
---
Set The Example
The Giving Board at Eyes for Life in Spokane, Washington, is a giant bulletin board proudly displayed in the office to highlight the charities where Heavin Maier, OD, is currently donating a portion of the practice's profits. The concept for the Giving Board was born while Dr. Maier was working with the Lutheran Community Services, where she was a board member helping to raise awareness and funds toward efforts to end sex trafficking. "It was a way to educate my patients on the causes that were important to me," Dr. Maier says.
Currently, the board features information on Doctors Without Borders and Vanessa Behan Crisis Nursery, a local organization that provides safety for children, strengthens families and creates a healthier community in an environment of unconditional love. She has also recently supported Optometry Giving Sight on the Giving Board.
To spread the wealth, these charities change every year or two, and Dr. Maier also gives patients a chance to provide their input on a charity that they would like Dr. Maier to support. "Patients can nominate a charity that is important to them by putting the name of the organization in a box," which is displayed near the Giving Board, Dr. Maier explains. They submit their name and the charity that they are passionate about, and Dr. Maier supports a unique patient-nominated charity each month with a donation of $300, in addition to her donations for the Giving Board charities.
Beyond her monetary contributions, Dr. Maier also helps others in her community by providing eye care services at least every month and a half, along with a rotation of other local ODs in Spokane, at the Union Gospel Mission clinic. Dr. Maier encourages not only her family and staff to be passionate about an organization of their choice, but she encourages that to her patients as well. Many patients who have moved away from Spokane come back to her for their eye care due to her reputation as a thorough, caring doctor and for her values.
---
Get Patients Involved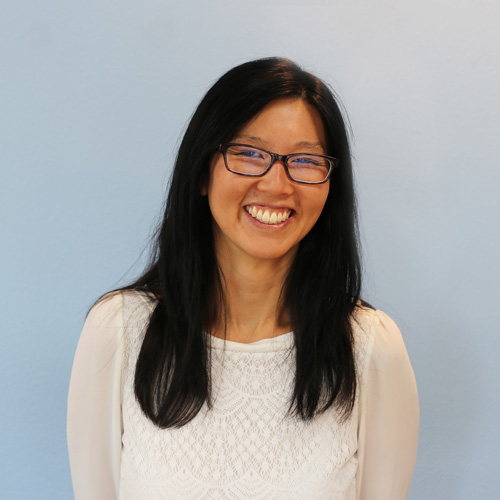 You can't miss the dedication to giving back at Myoptic Optometry in Portland, Oregon. Printed on the glass windows and on the wall in each of her three locations, practice owner Summy To, OD, has displayed her mission: See the world better®. Founded on a principle of contribution and community, Myoptic gives a portion of our profits to a charity that you help choose.
And visitors to the practice website's Giving Back tab should be prepared to be blown away. The page displays a ticker tracking donations made to a number of local charities since she opened in 2010—totaling more than $50,000. "I've always had a nonprofit, business philosophy and wanted to give back to the community," Dr. To says.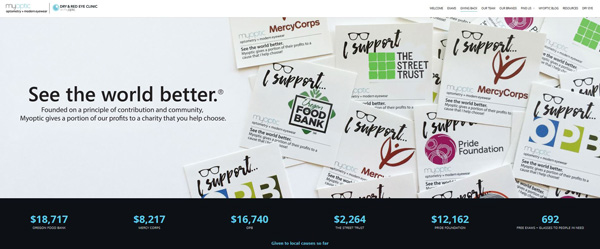 She started getting patients involved even before she had her own practice, while she was leasing a space to provide eye exams. "Patients could choose from one of four nonprofits, and we would give a portion of the proceeds to the organization they chose." Now at Myoptic, patients also can designate at checkout where they would like their exam's donation to go.
Dr. To has a few criteria when selecting charities to support. She looks for Portland-based organizations with high ratings for their ethics, as well as a variety of causes in different areas from environmental impact to international aid, hunger and social justice, to name a few. Currently, she's supporting the Oregon Food Bank, Mercy Corps, Oregon Public Broadcasting, The Street Trust and the Pride Foundation. The practice also started a scholarship program a few years ago.
Beyond financial support, Dr. To also provided nearly 700 free eye exams and eyeglasses to people in need. Through connections with a local high school, Dress for Success, Salvation Army and the Pride Foundation, candidates are identified for the exams, and a frame vendor and lab donate frames and lenses for the patients. "It's totally free, and it's nice to have those partnerships with the organizations to help organize our efforts."
---
A Closer Look at Your Philanthropic Efforts
There are four major benefits for businesses that give back to the community, according to Entrepreneur.com. These businesses build a reputation within their communities while also making the community a better place to live. Employees want to work for businesses that do good, and research has shown that is even more important with today's millennial employees. Finally, a business's philanthropic efforts generate a network of connections. Charity and philanthropy can be good business, even though those aren't the primary goals of giving. However, the optometrists who shared their passion for giving with Women In Optometry (WO) will say that they gain much more than they give.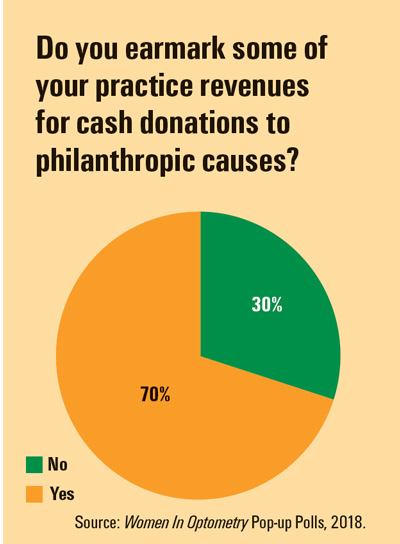 Seventy percent of the respondents to a recent WO Pop-up Poll said that they designate some of the practice revenue to philanthropic causes. These amounts typically vary from year to year, but for about half of the practices, it becomes a team effort, with staff participating in some way. Donations are not only monetary, but many respondents said that they also donate professional services, with 40 percent of respondents whose offices participate in philanthropic efforts saying that they do so routinely and another 45 percent saying they do so occasionally. Five percent of respondents said that they have not been asked to do so.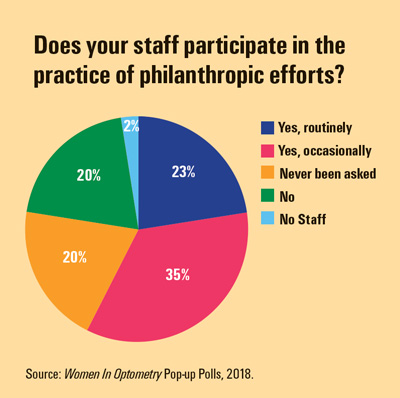 How these contributions are determined vary, with the vast majority of respondents (81 percent) saying that the practice donates different amounts as needed, although 10 percent of respondents earmark a specific percentage of practice revenue for philanthropic causes. Seven percent designate a percentage of revenue from a specific event or time period, and 3 percent said that they budget an amount each month.
While 56 percent of practitioners say that patients have no direct role in contributing or voting for charities to support, 41 percent note that patients are welcome to make contributions to the practice's charities of choice, and nearly 8 percent said that patients can nominate or request support for specific organizations.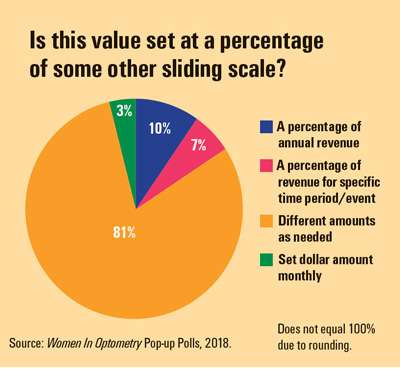 While many practices support more than one cause, contributing to community events or service organizations is at the top of the list, with 68 percent of respondents saying that at least some of their money goes there. Local schools were the recipients for about 41 percent of the respondents, and community food banks were listed by 24 percent. These organizations were followed by sight-related missions, such as Lion's Clubs (32 percent), Optometry Giving Sight (27 percent) and optometry schools (14 percent). Special Olympics was the designee of about 19 percent of the respondents. Nineteen percent of practices also noted that they organize and run community events to drive donations for a local organization.
The majority of practitioners, 54 percent, said that their 2018 giving will be roughly equivalent to their 2017 giving, although 29 percent noted that their giving is likely to be higher this year. Twenty-four percent said it would be somewhat higher (up to 10 percent more) while 5 percent said it would be even higher than that. About 10 percent said that they expect their 2018 giving to be slightly lower than last year, and 7 percent said they don't know.