At a recent meeting in Washington, D.C., Mesheca Bunyon, OD, president of the Optometry Board of Examiners for Maryland, was delighted to discover the similarities she shared with the presidents of her neighboring Washington, D.C., and Virginia boards – Lisa Johnson, OD, and Lisa Wallace-Davis, OD, respectively. All three happen to be graduates of Pennsylvania College of Optometry at Salus University – and all three happen to be Black women ODs.
The three graduated from PCO at seven-year intervals, and they believe that this is the first time that these leadership positions are held by Black women at the same time. Each of the women is driven by the same passion to improve the profession and protect the public. As board presidents, the three women have taken it upon themselves to not only lead boards that are responsive and fair but to make sure that future boards are attentive to diversity and inclusion
It's an important time for patient protections – and it's critical that optometrists representing the diversity of the profession participate, says Dr. Bunyon. The doctors spoke to WO following the U.S. Supreme Court decision overturning Roe V. Wade. "Women are feeling like they're not heard right now," Dr. Bunyon says. "I don't see how we can move forward, either in our profession or in our country, without women being a part of the conversation."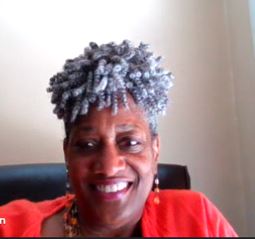 Dr. Johnson says that progress has been made – especially compared to how things were when she graduated in 1985. Women were in the room but not exactly voicing their opinion. She said there were sexist and racist jokes, often subtle but loud enough. She's glad to see how much things have changed but says there is still long way to go. However, the presence of women and Black women in leadership and advocacy roles will help show other women that they can be heard, too. "We need to get more diversity and inclusion on our boards," Dr. Johnson says.
EXERTING THEIR INFLUENCE
As optometry is a legislated profession, it is often up to the board to help determine how the laws that the legislators pass will be enacted. For example, in March, the Virginia Governor signed bills that permit ODs to perform three types of laser surgery. To help get ODs up to speed and certified as quickly as possible, the board is appointing a regulatory advisory panel to help set parameters.
Board members can also help influence the conversation, as Dr. Bunyon wants to do before her term ends in 2023. In recent years, the 1,000 ODs in Maryland have gained increased scope in prescribing for glaucoma and more oral medications including antivirals and for removing foreign bodies. But incorporating lasers is the next proving ground for ODs in many parts of the country, and Dr. Bunyon notes that a variety of health care and non-health care providers in the state can prescribe medical marijuana while ODs cannot. States with a broader scope of practice are more attractive to new graduates – who learn about the technologies and procedures in school and want to practice in states where they are able to leverage their education fully.
Dr. Bunyon, Dr. Wallace-Davis and Dr. Johnson discussed the importance of their representation in their field, as well as how others can help diversify the profession even more. As for the future, Dr. Johnson hopes to get more involved with the city council to advance the scope of practice for the 200 or so optometrists in the nation's capital.
GETTING INVOLVED
As is true of so many optometrists in leadership positions, these women noted that they became involved by saying yes to a request to do so. Dr. Bunyon, for example, became involved in the National Optometric Student Association during optometry school and then held various positions with the National Optometric Association and the Association of Schools and Colleges of Optometry. From there, she became involved in Maryland's state and local society structure before the governor appointed her to the board role.
The others say that they were recommended by colleagues – and said yes. Many women ODs don't think of board positions as a career opportunity, but it's a good one to bring in new perspective and experience, they say. It's also important for others to step up to avoid volunteer burnout for the ones who have said yes. Dr. Wallace-Davis will reach the end of her term in 2023.
In Washington, D.C., for example, a board position can only be filled by an OD who lives within the district's city limits. So that makes the pool of candidates fairly small. As a result, Dr. Johnson has been on the board since 2004 and became chair a year ago. After practicing for 37 years, she says she looks forward to slowing down in the not-too-distant future. While she enjoys her work and being an advocate for her patients, she says she is ready to travel, get involved in social organizations and, in her words, "do absolutely nothing."
They welcome questions from ODs who might be interested in roles likes these. But the best people to ask are the colleagues in your state and local societies, they say. "Get involved and say yes," Dr. Wallace-Davis says. Dr. Johnson recommends getting involved in just one committee, which could expand your network and launch your professional career into a new level. "People should get involved because your involvement affects our profession," Dr. Bunyon says.
The three doctors love being able to work with the public and advocate for those who need care. Their board roles have provided them with additional perspectives they can use in their patient care. Dr. Bunyon says that in advance of her leaving her role, she is reaching out to women and especially to women of color to encourage their participation.