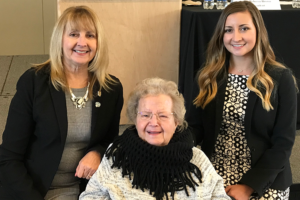 Not many optometric families can boast three generations of ODs—and even fewer can say that they're three generations of women ODs—but the Montecalvos can. ​Brenda Montecalvo, OD, FCOVD, FAAO, FCSO,​ ​and her daughter ​Natalie Montecalvo, OD, MS,​ had the influence and mentorship of ​Marilyn Brenne Heinke, OD, FAAO, FCOVD.
​Dr. Heinke is a 1945 graduate of the Northern Illinois College of Optometry. An accomplished optometrist, lobbyist for physicians and single mother of four after her husband passed away in while the young couple was still in their 40s, Dr. Heinke took few breaks. She was a member of the American Optometric Association board, opened her own practice, wrote a book on infant vision issues and participated annually in providing eye exams for athletes competing in the Special Olympics. Before retiring in her 70th year of practice, she was named Optometrist of the Year by the Wisconsin Optometric Association.
A MATRIARCHY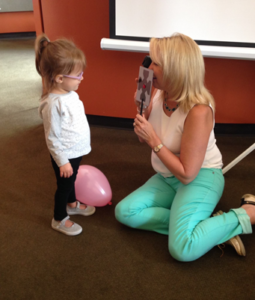 Dr. Brenda Montecalvo was shocked to meet her first male optometrist when she was 5. She had assumed all optometrists were women based on the ODs she had known. But optometry was not always the plan for her own career. "I thought I would go into politics and French," she says, "but then a family friend said, 'You know, you really need to go into optometry.'" After growing up with her mom's practice in their home, Dr. Montecalvo had some experience with practice management and marketing and was able to do some consulting following her 1985 graduation from Pacific University.
After marrying her husband, a U.S. Air Force F-16 pilot, they moved around to where he was stationed until he decided to join the guard reserve in Ohio so Dr. Montecalvo could establish a practice of her own. Because of her business training from an early age, she was able to pay off her investment of a cold open within nine months.
Five years after opening, she merged her practice with two local existing practices, forming what is now Nova Vision Care. A new passion arose for Dr. Montecalvo when she got into a car accident and suffered a concussion: learning more about educating patients in brain rehabilitation. Alongside her existing specialties, she has also written a book on the role of vision in learning, called​ ​Visual Secrets for School Success; Read Faster, Write Better and Master Math & Spelling. Dr. Montecalvo has dedicated her career to optometry, while still maintaining an active role in the community and as the owner and operator of a 43-acre farm.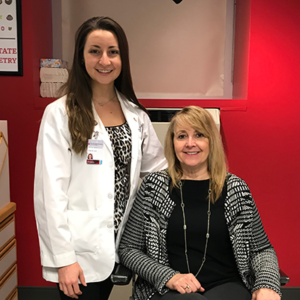 GENERATION III
One of the many people inspired by Dr. Brenda Montecalvo is her daughter, Dr. Natalie Montecalvo, who was a high school senior when she decided to enter optometry. Between practicing her valedictorian speech with her optometrist grandmother and seeing her optometrist mother's work/life balance, she had a solid understanding of the profession and its benefits. After graduating this past spring from The Ohio State University College of Optometry, she looks forward to a life serving her community like the women in her family.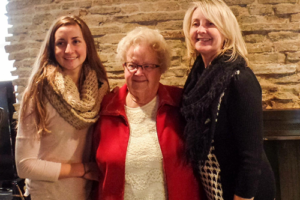 "When I was growing up, my grandmother had her practice in her basement," she says. "So we would go and play on the equipment, but it was always in the back of my mind that she was a single parent and able to raise four kids on her income." Dr. Montecalvo joined the practice only in mid-June but the impression of the first days on the job were great. "I love being able to talk to different people every 30 minutes or so." She looks forward to the continuing adaptability and the continued education she will receive as an OD. What is most exciting to her, though, is the promise of what's to come in optometric advancements. "Even though I just graduated, I'm nowhere near the end of my learning. From the time my mom graduated to now, everything is new, and I'm excited to see how things will continue to change." And the legacy of three generations of women ODs continues to grow.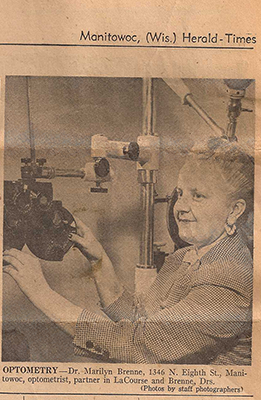 Women In Optometry published this story in 2011 about Dr. Heinke's influence on Dr. Brenda Montecalvo's vision therapy career interests.