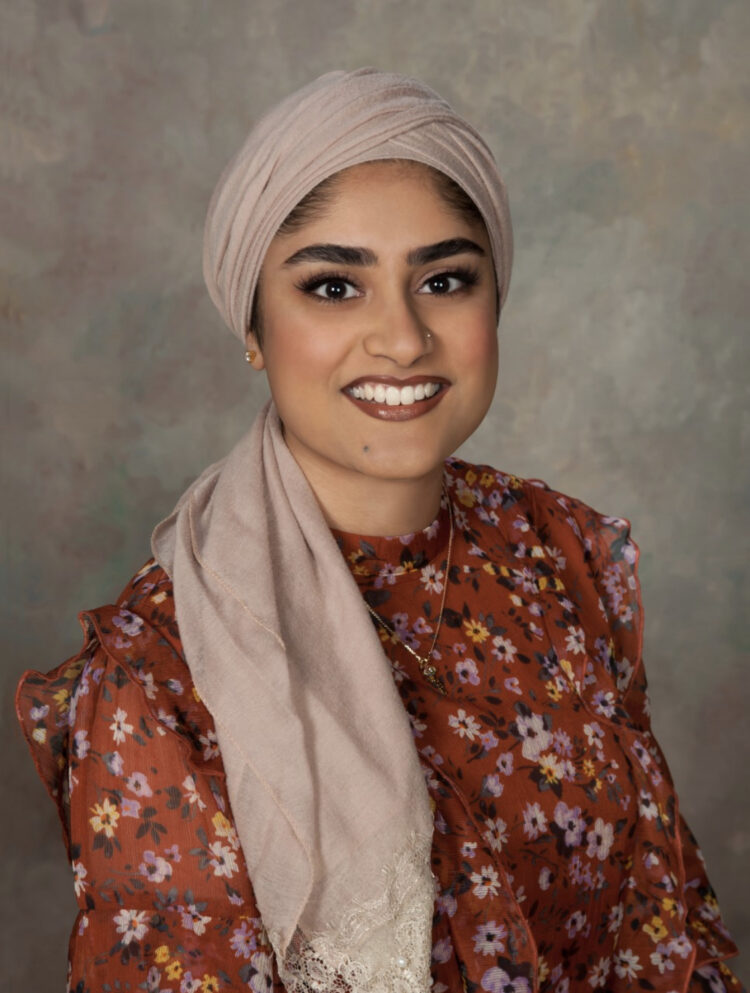 Muslims all over the world are coming to the end of Ramadan, a holy month in the Islamic calendar where many Muslims fast from sunrise to sunset for 30 days. Kashifa Ansari, a fourth-year optometry student at the Illinois College of Optometry, has been honoring the tradition for more than 10 years. It's both a refreshing and trying time, she says, especially while attending school and completing clinicals. She will be graduating in May 2023, then will be an ocular disease and low vision resident at the Jesse Brown and Edward Hines Jr. VA Medical Centers in Chicago.
Ansari started fasting while attending an Islamic middle school. This includes not eating or drinking anything from dawn to sunset, plus some other restraints. The change in schedule and the physical challenge to the body have taught Ansari to make adjustments to her schedule. She tends to study at night, after she has broken her fast. And sometimes her clinical schedule delays her ability to break the fast at sunset, as she prefers to complete the encounters with the last patients of the day.
"Going without food for such a long period of time can cause irritation or feeling 'hangry,' but it pushes me to focus more on being extra patient and kind," Ansari says. "During Ramadan, I put more thought into the way I express myself."
A SIGN OF EMPOWERMENT
Ansari was inspired to take another step and start wearing a hijab just before starting college. During a college open house, she noticed a hijab-wearing student greet another student wearing a hijab with a warm and welcome "Assalamualikum," which directly translates to "peace be upon you." It didn't seem like the two knew each other, Ansari says, yet they were able to recognize and acknowledge each other, creating a shared experience that Ansari wanted to be a part of.
At school, she's found friends both in diversity groups and with those that come from different backgrounds and upbringings. "It's almost always a positive experience with others."
"In addition to hijab being a proud representation of my Islamic faith, I also wanted to wear it as a way for others to view me for my talents and personality rather than my appearance," Ansari says. For me, the hijab has always been a sign of empowerment, and it's never hindered me from attaining opportunities in life. For that, I am grateful."
A POSITIVE THING
Muslims refrain from contact with the opposite sex, including avoiding handshakes and hugs. But Ansari says this doesn't apply to giving or receiving medical care, allowing her to focus on her patients without compromising the guidance of her faith.
"It can be tough to stay focused while fasting—there's no way around it," Ansari says. But she finds herself finding ways to continuously show up and give her patients the best care. "I take my time and give myself patience," she says.
In fact, it's not uncommon to see a woman wearing a hijab in today's medical field. There are even specially-designed medical hijabs. But Ansari invites curiosity. "In my experience, people either ask questions, or they don't bring it up at all," she says. "I don't mind either way."
Kashifa has an optometry focused Instagram account where she shares vlogs about being in clinic while fasting. Her bio reads,"Just a girl trying to empower, educate, and change your vision one eye at a time." Follow her @futuredr.k.ansari here. 
To read more newsmaker stories from WO, click here.