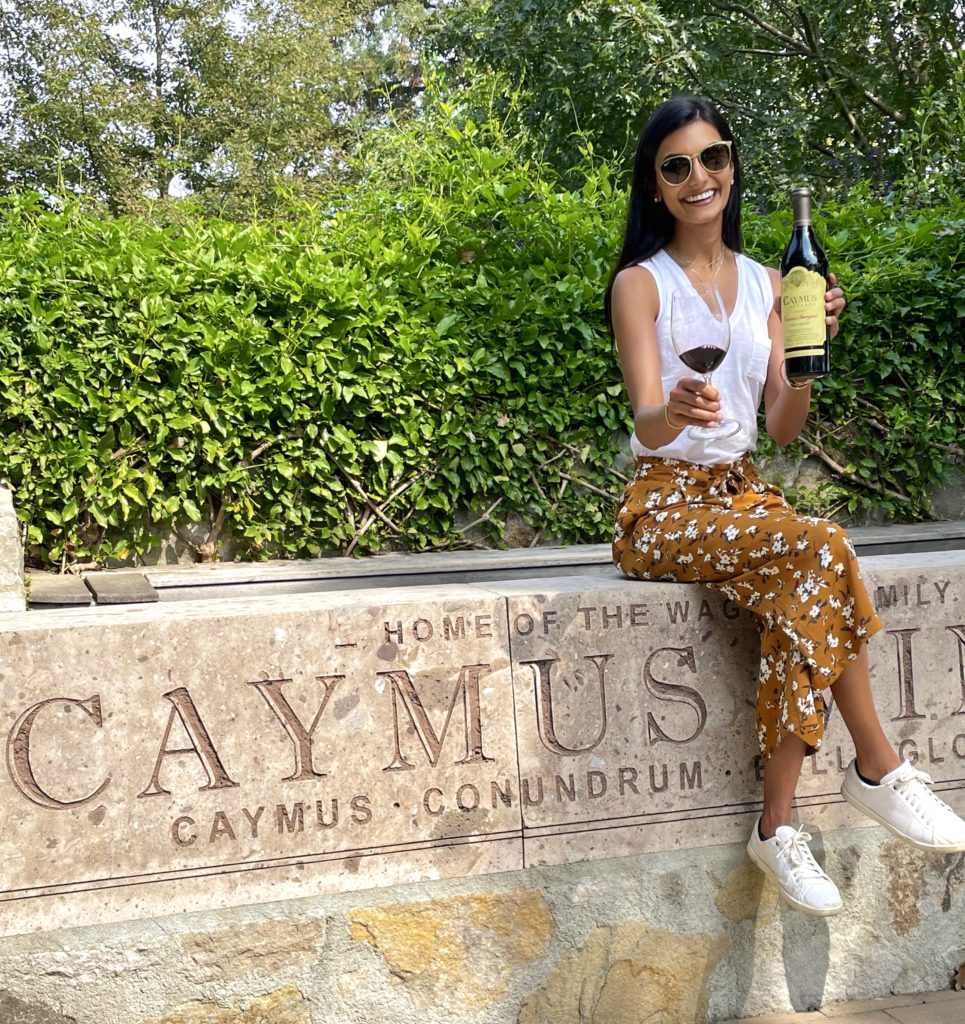 By Nadia Virani, OD, Chief Clinical Officer, EVP Eye Care
Hello again, wine lovers!
I'd bet that most of you have either tried or been recommended this spectacular wine at one point or another. With this common and classic recommendation comes an incredible story– a story of a extremely hard work, resilience, pride and an unmatchable family bond.
What better time to share this journey than with Valentine's Day date night around the corner!?
So here it is – the famous, crowd favorite, one and only – Caymus, Cabernet Sauvignon.
Recently, we had the pleasure of visiting Napa Valley – the birthplace of 'new world' winemaking in the U.S. The alchemy that created this region began with French Franciscan monks in the early 1800s who brought with them a philosophy of creation in the natural world as an expression of joy and, importantly, grape vines from the legendary Burgundy region in eastern France. More French immigrants followed and with them 2,600 years of winemaking expertise. This heritage coupled with the character or terroir of the soil and Mediterranean climate in this Northern California region rapidly propelled Napa onto the world stage of winemaking.
NAPA VALLEY TERROIR
Today, the Napa Valley boasts over 400 wineries. For this trip we decided to venture up to the less frenzied northern point of the Napa Valley in Calistoga and work our way south for a lazy day of wine tours.  After several tours that seemed to be made for tourists, we sauntered into the oasis of the Caymus estate, aptly nestled in the middle of the Napa Valley in Rutherford, California.
The Caymus winery has a history that dates back to the beginning of the Napa Valley winemaking story when the French immigrant Wagner family homesteaded land in Rutherford to grow produce trees and grapes for winemaking. Seven generations of the Wagner family continued to refine their farming techniques and winemaking craft that brought out the best of Napa's extraordinary terroir.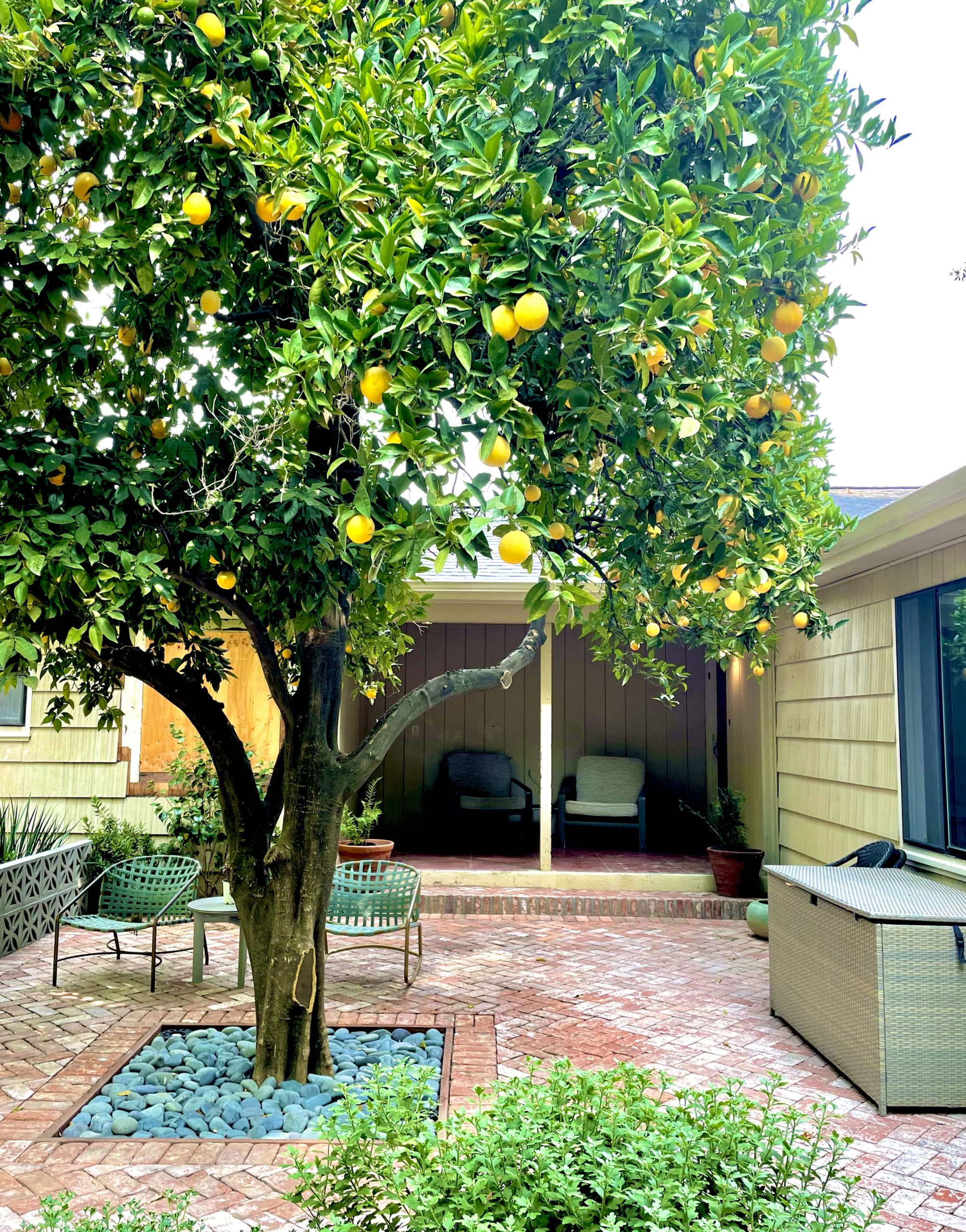 When you walk up to the modest Caymus winery, you can feel the depth of these seven generations of growers. In fact, the centerpiece of this 73-acre estate is the original farm house where Chuck Wagner, the patriarch of the family, was born and raised along with a single and thriving orange tree (pictured) that is a living tribute the moment when these produce farmers went all-in to making their house wine in 1962, Caymus Cabernet Sauvignon.
WINE OF THE YEAR AWARDS
Caymus Special Selection Cabernet Sauvignon is the only wine in the world to be honored twice as Wine Spectator magazine's "Wine of the Year" for the 1984 and 1990 vintages. This wine completes with Opus One as a Cab blend that is both rich in flavor and easy to drink. The Wagner family would quickly remind us that unlike most of the other corporate wines produced in Napa, Caymus continues to be made by the same lineage of Wagner family members who pride themselves on producing wine with a palpable sense of joy and approachability –hallmarks of this farming family and the origin of the Napa Valley.
Alongside the Caymus Vineyards, the Wagner Family of Wines includes Emmolo, Conundrum, Mer Soleil, Red Schooner, Sea Sun, and Bonanza. Two wines in the family have no distribution and can only be purchased at the winery – The Zinfandel and Pinot Grigio.
I highly recommend visiting the Caymus estate if you find yourself in Napa. The hospitality feels like family welcoming you back home and the wine is to die for. I would also recommend selecting Caymus wine for those special occasions with friends and family when you toast those moments in life that are equal parts reflection and celebration.
With their strong ties to the land, plus a formula of hard work, perseverance and creativity, this family's wine has made for the perfect Valentine's Day recommendation for generations to come!
As the French say: À votre santé – cheers!
Missed previous installments of Dr. Virani's wine recommendations?
Read the story about how and why Dr. Virani became a wine sommelier here.
Read Dr. Virani's wine fun facts here.
Looking for a romantic, date-night wine? Read Dr. Virani's choice here.
A white burgundy is a perfect après-ski wine. Read about Dr. Virani's choice here.
A delicious tempranillo  is a great way to welcome the warm days of spring. Here's Dr. Virani's recommendation.
A cabernet sauvignon that is nearly a meal in itself. Read her recommendation here.
Read why summer, optometry and Riojas are a heavenly combination here.
Sangria recipe? Yes, please. Look here.
An entrepreneur expands interest into wine-making – deliciously. Read the story here.