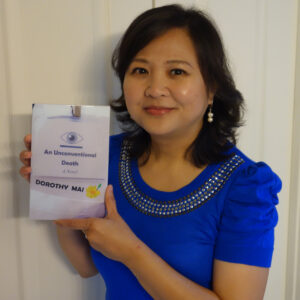 Optometrists are known to sleuth out clues to mysteries – so Dorothy Mai Win-Hall, OD, of Houston, Texas, has taken that to a new level. Dr. Win-Hall is the author of a new book, An Unconventional Death, featuring Dr. Thi Tri– pronounced "tea tree", just one of the Easter eggs in this book that ODs should particularly enjoy. She writes under the name Dorothy Mai.
Dr. Tri is mostly fictionalized but Dr. Win-Hall borrows from her own experiences. A 2001 graduate of University of Houston, College of Optometry (UCHO), Dr. Win-Hall completed a residency in low vision and spent 20 years working in a variety of optometric settings. These include private and corporate-affiliated settings, nonprofits and at UHCO. She has done clinical research and published peer reviewed articles in measuring ocular changes with presbyopia.
But health issues – and the COVID pandemic – pushed her to rethink her career as she needed to reduce her clinic time. "I wanted to have a way to keep optometry in my life," she says, so she created a crime-solving optometrist, "an Asian American female because it reflects my own experiences with all the struggles and triumphs, but also I wanted this book to be a vehicle to inform the general public about optometry and optometrists."
At first, she says she wondered if she was "clever enough to write mysteries, but I thought if I was going to try, I should pick a protagonist whom I could relate to."
FIRST MYSTERIES SOLVED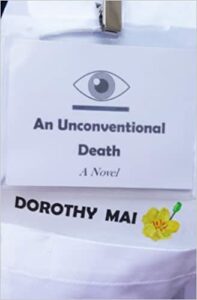 Dr. Win-Hall plans to have Dr. Tri solve more mysteries in at least two more installments. An Unconventional Death – think optometric convention! – begins as Dr. Tri slowly develops a knack for solving cases. First, a police officer friend and patient shares details about a case that has him stressed. After success helping him solve that, another OD asks her to help him determine who in his office is stealing from him. Then the book turns to the more traditional whodunit when Dr. Tri and a friend discover a dead body in a bathroom stall.
In the second installment, Dr. Tri will move from a private practice setting to working in a nonprofit and among ophthalmology. In the planned third book, Dr. Tri will be working  at an optometry school among the clinical instructors and researchers, where more mysteries unfold. Dr. Win-Hall has chosen these different locales because she wants Dr. Tri to be representative of optometry in general. "I've had these experiences working in different settings that most of the general public might not think of as optometry opportunities."
Dr. Win-Hall has self-published the first book, and she's hopeful that a publisher of mysteries might take interest in a second installment. An Unconventional Death is currently available on Amazon.
A SCENE FROM THE BOOK
Dr. Win-Hall has shared a portion of the beginning of the book with WO readers. In this scene, Dr. Tri – the narrator – confesses to her husband that she's been moonlighting at a competitor's office. She slowly reveals her ulterior motive for doing so.
"So, were you ever going to tell me?" Fred asked a little agitated.
"Tell you what?" I answered nervously.
"That you've been working at Dr. Moore's office this week."
I froze in place.
"How did you know I was working there?" I replied meekly.
"Adriana called. She told me to tell you that tomorrow's morning patients rescheduled, so you could just go straight there instead of stopping by your office.  Why didn't you tell me?  Is business that bad?"
"Not exactly," I said hanging my head down and feeling the weight of guilt I'd been carrying all week, like Atlas holding up the heavens.
"Then why in the world would you go work for your competition?"
I breathed a heavy sigh.  "Dr. Moore asked me to fill in for him while one of his doctors was out.  He knew our schedules have been slow lately.  He's paying me double the regular fill-in rate.  I figured I could share it with the staff."
"That's thoughtful of you I guess but I'm not sure a few extra dollars are a good enough reason to do this."
"Well, there's more to it."
"I'm listening."  He was using his serious voice now.
"He is missing about 10,000 dollars' worth of frames and he wants me to figure out who in the office might have taken it."
"Sleuthing!  You're there to do sleuthing?" he exclaimed looking none too pleased.  "This was why I didn't think you should open your own office.  No offense Thi, but you get distracted easily by trying to solve other people's problems."
"Just trying to help a colleague.  Thought I could do something good for him and for my staff," I countered weakly.
"You are an eye doctor for goodness' sake.  You help people see better every day!  Isn't that doing something good?  Why isn't it enough?"
"Sometimes it is and sometimes it isn't.  I enjoy helping people when I can.  Sometimes it's with their eyes and sometimes it's with something else."
"Honey," he said trying to calm down.  "You are a people pleaser.  People pleasers have trouble saying no, even at their own expense."
"I know I'm a people pleaser, but it's more than that.  I kind of like to solve crimes too.  You know, stop the bad guys.  I'm a 5 ft. 2 in., Asian American woman of average looks and sufficient personality.  I didn't get invited to very many parties when I was young.  I got picked last for sports teams in school.  I had paper and spit wads thrown at me by bullies.  But solving crimes, even little ones, usually gained me respect.  It even made Lan want to be my best friend," I protested before stopping to gather my composure.  Tears welled up in my eyes as I stood by the kitchen counter running my finger around the rim of my water glass.
Meet More WO Authors