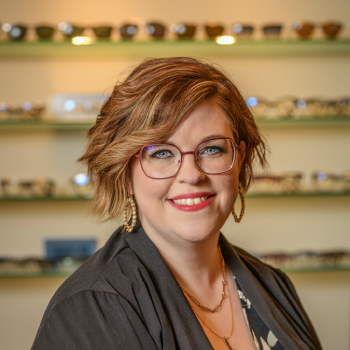 Meet Jenna Gilbertson Steiner, office manager at McCulley Optix Gallery in West Fargo, North Dakota. Or, professionally, Jenna Gilbertson, or personally, Jenna Steiner.
She's started in optical 15 years ago after her first career as a youth and family minister. She joined the practice 12 years ago and now has her hands in most of the practice projects, including marketing, staff management, strategic planning and dispensing.
When Gilbertson started over in an entirely new career, she had already made industry ties. So when she got married and was already settled into the optical world, she wanted to share a name with her husband but avoid confusion with colleagues and patients she had long-lasting connections with.
"It was really important to me to keep my name, but also important to my husband that we shared a name," Gilbertson says. "This was a great compromise." Now, as Jenna Gilbertson Steiner, she can legally sign her name however she sees fit—with one last name or the other, or both. The major point, she says, was to not include a hyphen.
"If I hyphenated [my last name], that would be my entire new legal last name," Gilbertson says. "Once hyphenated, it is considered one word." However, by emitting it, she technically has two last names—hence, signing either one and using one for her personal life and another for her work life. The advice she got from a realtor friend, she says, and it's worked for her so far. "Now you might want a lawyer to double check that," she says, "but I went with it!"
The only con, she says? Keeping up with important documents. "I am never 100 percent sure what name I used where," Gilbertson says, but she is "getting better" at using her married name strictly for non-work-related information.
Do you use a different name than what's on your diploma? Let us know at mbijlefeld@jobson.com.