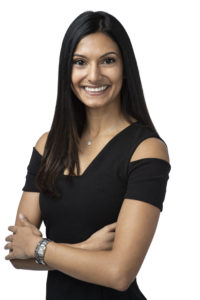 Nadia Virani, OD, of Kleiman Evangelista Eye Centers of Texas, is a woman of many tastes. Dr. Virani's zest for learning and expanding her palette does not end in the medical field; she is also a newly certified level one sommelier, certified by the National Wine School.
She began her optometry journey working in a large-scale refractive practice. She attributes the "great and humble mentorship" she received during her tenure there to her pleasant experience. "I experienced rapid growth with the company which allowed me to have insight and gain a massive look at the business side of the mix," says Dr. Virani.
Soon enough, she was promoted to lead the ODs on staff and from there advanced to Vice President of Operations. "I finally feel like I am using all of my skills to make a bigger and positive impact, and I'm having a blast doing it," she says.
WINE AS CONNECTION
"Although wine is a longtime love of mine, the notion is bigger than that," she says. "We live in an industry that is largely left-brain driven. We invest heavily in our left brain, almost at the expense of our right brain." Connecting with the creative side of her life is not only providing catharsis for Dr. Virani, but it also serves her professional life.
"It allows us to bring our heart and soul into our practice and profession. Hobbies–-like my passion for wine, traveling or painting –connect me with my right brain, which allows me to lead with spiritual joy," she says. She encourages other analytic-minded ODs to explore their passions.
"We should not let our training keep us in a box."
Dr. Virani finds that wine specifically opens the door to many meaningful conversations. "It sparks great conversations, a great connection," she says. For example, "Drinking a bottle of wine with friend, we had an entire conversation about as something random as a favorite wine of Winston Churchill's . It's an entire world that's just based around the vocabulary and experience: the grape, the history, how to drink it, the hospitality around it," she says. "This sommelier certification is the tip of the iceberg. I find passion in finding the connection."
This interest in wine serves her in the office, as well. "It's a connection with patients, and in networking with your staff, and other doctors. So many people have an interest in wine," she says. "Anytime you can communicate with patients better, the better you can deliver the health care message."
---
Read Dr. Virani's Fun Facts About Wine here.
---
In her LinkedIn post where she talked about the impetus to studying wines, she wrote this:
Wine captures an essence of such a wide spectrum of concepts we find beautiful in this world. The wine world harvests passion and forms warmth and generosity between family and friends wherever you may find yourself in this world. It seamlessly combines horticulture, economics, climate change, political, social and historical movements. It mingles the creativity of artists with the particularity of chemists. It jointly hosts families that pass on their trade generation to generation, and new innovators and shakers alike. We therefor deemed it "pancultural"- spanning a vast array of worlds, passions, theories and loves.
Read the full series of Dr. Virani's wine recommendations.
Read the story about how and why Dr. Virani became a wine sommelier here.
Read Dr. Virani's wine fun facts here.
Looking for a romantic, date-night wine? Read Dr. Virani's choice here.
A white burgundy is a perfect après-ski wine. Read about Dr. Virani's choice here.
A delicious tempranillo  is a great way to welcome the warm days of spring. Here's Dr. Virani's recommendation.
A cabernet sauvignon that is nearly a meal in itself. Read her recommendation here.
Read why summer, optometry and Riojas are a heavenly combination here.
Sangria recipe? Yes, please. Look here.
An entrepreneur expands interest into wine-making – deliciously. Read the story here.
A cabernet sauvignon to warm the heart. Read it here.