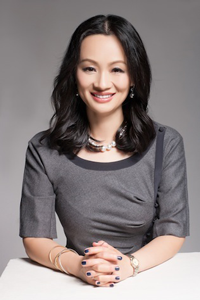 Bridgitte Shen Lee, OD, of Houston, sympathizes with women with thin eyelashes. "I have typical Asian eyelashes—short and sparse. In fact, I barely have any bottom eyelashes," she says. She had tried every product available—and while some worked better than others, they had various side effects from allergic pink eyelids to unattractive stringy eyelash discharges. Then she tried Zoria® BoostTM Lash Intensifying Serum from OCuSOFT. "I've been so excited. On my right eye, I actually have lashes on the bottom that I can put mascara on, and my left bottom eyelashes are coming in. The top lashes are longer and thicker, too," she says.

_x005F_x0001_Dr. Shen Lee says that between the point-of-purchase materials that the practice has on display—including a Zoria® poster on the inside of the exam room doors—and the enthusiasm that her female staff has for the lash-enhancing serum, the combination packs of the serum and Zoria® BoostTM Mascara are selling quickly—usually at least one or more per day. She spiffs the staff on sales of combo packs, too. The products are available without a prescription and can be purchased through an eye care professional's office and various online sources.
It's a message that Dr. Shen Lee likes to take to other ODs. She runs a program that offers CE in China each summer (
travelce.com). "This summer, we were in an oxygen lounge in Tibet, 15,000 feet above sea level, having CE," she says. "And I was answering questions from the group of male ODs—there was one other woman—about Zoria. They wanted to know how we promote it and how they could incorporate it."
Men can certainly do a brisk business with this product, too, she says, but being a female OD is an advantage. "I have a male business partner—and when patients ask him questions, he tends to pull me in or I talk to the patient in the hallway." Often, that conversation includes Dr. Shen Lee pointing excitedly to her own eyelashes. It's a quick conversation, she says. She can hand patients a brochure, and most just want to know if it's safe. Hearing that she and the staff members use it is enough of a testimonial to encourage them to try it.
While she is called in to confer with her partner's patients only a few times per month, she says that she gets questions from patients about various eye beauty products daily. "I get beauty-related questions every day. That's one reason why I book 45 minutes per exam," she says. She wants to have time to address all issues that patients are asking about. "As our practice has become more established, our patients are aging, too. We find our- selves talking more about vision changes that come with aging and their solutions."
Sponsored by OCuSOFT