Your patients want to present their best selves to the world, but they can't rely on cosmetics alone when their eyes don't feel their best and look bright. These three ODs map out a plan to keep patients comfortable while also allowing patients to shop for the makeup products that they want right in your office.
Start with the ocular surface
Melissa Barnett, OD, FAAO, FSLS, FBCLA, is passionate about the importance of eyelid hygiene and how ocular surface disease and dry eyes can impact vision and the quality of life. "We are all on digital devices and are not blinking enough, which causes our eyes to become more dry," says Dr. Barnett, principal optometrist at the University of California, Davis, Eye Center. Contact lens wear, similar to dry eye, is intrinsically inflammatory and may lead to dryness. Additionally, meibomian gland dysfunction (MGD) is highly prevalent and is often not diagnosed or treated. Patients with diabetes, diets low in omega fatty acids, autoimmune disease or those experiencing hormonal changes may also be affected with symptoms of dry, irritable eyes.
Ask patients questions about blurry vision and how contact lenses feel at the middle and end of the day. Sometimes treatment of the eyelids, lashes and ocular surface can help eliminate fluctuating vision, so it's important to address the problem at its root. "I treat the ocular surface, including the eyelids and lashes, and attempt to get it in pristine condition to prepare for the sharpest vision with eyeglasses and an optimal contact lens-wearing experience," Dr. Barnett says.

She recommends a care and treatment plan, often including the OCuSOFT® Lid Scrub Original foam. "There are many products from OCuSOFT that have helped my patients with dry eye, ocular surface disease and Sjögren's syndrome," she says. "These products have improved the symptoms of burning or dryness and have helped keep contact lens wearers more comfortable and able to stay in their contact lenses."
Help prevent tear evaporation
Bridgitte Shen Lee, OD, of Houston, Texas, believes that the first step in dry eye treatment are healthy lids and clean lashes. "Dry eye and blepharitis are big growth areas," she says. "There is not a 'one thing or one treatment' that takes care of the dry eye. You have to look at the whole picture."
For patients with evaporative dry eye (EDE) symptoms, OCuSOFT's Retaine® MGD tear supplement works well. "Patients with MGD and EDE do well with the tear supplement because Retaine MGD has a positive charge, and the patient's dry eye surface is negatively
charged. When neutralized, it forms an effective barrier against tear evaporation," she explains. "We encourage all of our contact lens
patients, especially the ones who show signs of MGD, to use Retaine MGD." Dr. Shen Lee's practice, Vision Optique, performs meibography on all patients over age 18 and many younger contact lens patients who have dry eye symptoms. By taking the time to educate patients on what they can do to prevent symptoms or complications and protect their eyes for a lifetime, she and her practice partner have built high patient loyalty.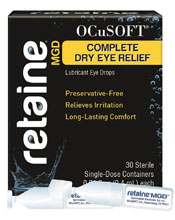 Offer beauty products that patients want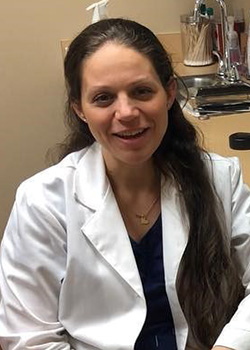 Stephanie Frankel, OD, works at Hollywood Eye Institute, an ophthalmology group in Fort Lauderdale, Florida, that specializes in beauty procedures, from blepharoplasty to Botox and more. "People want to maintain their youthful appearance," she says, so it's not a surprise that patients are interested in these services—both women and men. "Women start the conversation with me. But I initiate the conversation with men. I'll say something like, 'Have you recognized that your eyelids are beginning to droop?' Or, 'Do the bags/dark circles under your eyes bother you? These are things that we repair for patients like you all the time.' They're often very receptive."
Dr. Frankel often turns to the OCuSOFT products that the practice carries to help resolve a series of cosmetic issues, from redness and irritation that is a factor with dry eye disease for some patients to under-eye cream, makeup removers and ZORIA® Lash Boosting Serum or mascara products to stimulate lash growth. Many of the products available, such as the serum and ZORIA® under eye cream, are used before bed, so patients are less self-conscious about using them, she says.