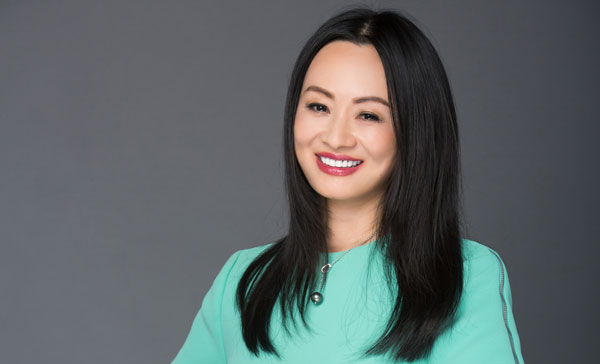 Aesthetics and beauty discussions have become more prevalent at Vision Optique, the Houston practice of Bridgitte Shen Lee, OD, and her business partner, Bradley Owens, OD. "Part of it is driven by consumer demand in our society, and part of it is driven by doctors who are more comfortable with the discussion and who have more solutions and products to offer patients," she says.
"People—young and old, men and women—are sharing more photos of themselves on social media. They want to look their best in these photos, so I'm hearing more questions about red and dry eyes, more dramatic eyelashes and ways to get rid of bags and wrinkles under and around the eyes," she says. For Dr. Shen Lee, a woman OD interested in fashion herself, it's a natural topic of conversation. It's important to be comfortable with the discussion and to have solutions for patients, she says. "I am a GenX early presbyope who has meibomian gland dysfunction (MGD), dry eyes, digital eye strain and short eye lashes. I'm researching these products for myself, so when I find something that works and that I can either prescribe and/or retail, why not bring it into the practice? It's a natural fit."
The conversation has three important parts: vision, health and beauty. There's overlap among them, but each should be addressed. "We want patients to know that we have options to help them see and look their best. In addition to progressive ophthalmic lenses in stylish eyewear, we now have daily disposable multifocal contact lenses and new refractive surgery options," she says.
Dry eye is a multifactorial disease that is becoming more commonly observed in primary care optometric practices. One of the symptoms is red eyes. "Patients want their eyes to look white and healthy, but with the increasing use of digital devices in our daily lives, we have more patients complaining about red and dry eyes and fluctuating vision," she says. "Being able to measure dry eye and track the treatment results is exciting." This year, the practice brought in the LipiFlow system from TearScience and other diagnostic testings for dry eyes, such as TearLab and Inflammadry, and has had good early success with Lifitegrast 5% (Shire Xiidra) to treat the signs and symptoms of dry eyes, in addition to Cyclosporine A 0.05% (Allergan Restasis) treatment.
OCuSOFT is one of the ophthalmic companies that has a family of products to address various ocular surface disease conditions and beauty. "For blepharitis, we use its Lid Scrub Plus Platinum eyelid cleanser. The foam is convenient for patients to use, and we tell patients to use it in the shower," she says.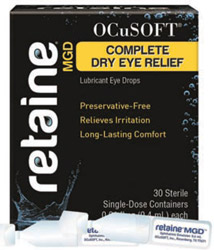 "For patients suffering from the evaporative form of dry eyes, OCuSOFT's Retaine MGD is a top-performing tear with a lipid-replenishing formula that helps stabilize the tear film and protect against moisture loss." Since the practice brought in LipiFlow technology, Dr. Shen Lee is seeing a higher correlation between dry eyes and digital eye strain. "We can hardly keep Retaine MGD and Bruder moist-heat masks in stock now that we have better technology to help us diagnose dry eye and its related ocular surface disease."
In the beauty category, ZORIA BOOST Lash-Intensifying Serum and ZORIA BOOST Mascara are very popular. "We display these at the front desk, and they've both done very well. I use both myself daily, and I can provide a testimonial that they work, even for Asian women who are genetically predisposed to short and sparse lashes," she says.
Dr. Shen Lee adds that optometric practices have been in the beauty and fashion business for years, really. What she's doing now is an extension of that, and it's helping grow the practice and increase patient satisfaction.