In September 2018, Julie Lam, OD, celebrated the fifth anniversary since opening Eye Care North, her practice in Cave Creek, Arizona. The milestone welcomed a number of changes—an office makeover with updates to frame presentations and displays, the addition of an OCT and the decision to no longer accept any vision care plans. It was a change she couldn't take lightly, she says, since at the time, 60 percent of her patients had vision plan coverage. "I felt that I couldn't provide the same high quality of care when I was seeing so many patients," Dr. Lam says.
Dr. Lam and her staff of three full-time team members began working on their implementation approach about a year before the change went into effect. They focused on providing stellar customer service and practicing how to explain why they no longer accept the vision plans and offer alternative payment options. Thanks to their careful preparation, the transition has been a positive experience. While not every patient had decided to stay with the practice, she says that she's pleased that many of them have. "We have really enjoyed seeing the patients who have stayed, and they've been loyal since the beginning," she says.
The change to her schedule is allowing her to dedicate more time with patients and also further develop her ocular disease practice segment of the business. "We're focusing on seeing the medical side grow," Dr. Lam says. One way that she's been providing a more thorough care experience has been by incorporating products from OCuSOFT in her practice for treatment and management of dry eye disease. "I wanted to provide that convenience for patients," she says. Over her years of experience in her own office and those where she was employed prior to that, she had seen how patients would often not follow through on their treatment plan because they couldn't find the right product at the store. "I could improve patient compliance by having the products right in the office."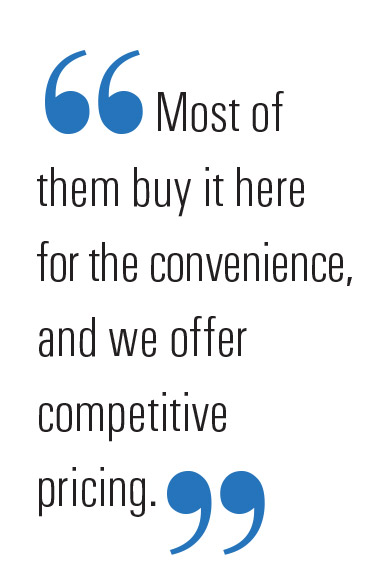 Dr. Lam uses several of the products herself, and she lets patients know that they are her personal choice in her recommendation. "I want patients to know that I test out the products that I am recommending for them," she says.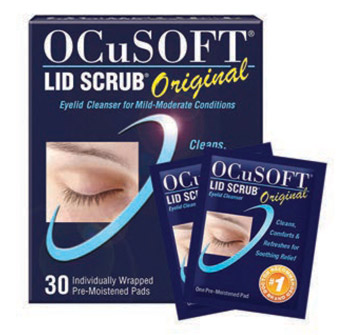 For general lid maintenance, she reaches for a sample of the original OCuSOFT® Lid Scrub™ pre-moistened pads when she's talking to the patient in the exam room. "The original lid scrub keeps the lids nice and clean, and I'll prescribe the OCuSOFT Lid Scrub Plus when a patient has an eye infection or more severe blepharitis," Dr. Lam says. She also likes the OCuSOFT Lid Scrub foaming eyelid cleanser for patients who may feel that the pads are abrasive to their sensitive eyes.
She likes Retaine® MGD Ophthalmic Emulsion Eye Drops because the acronym MGD is right on the box. "I explain to patients that a majority of dry eye is because of meibomian gland dysfunction, so I show them that these eye drops were made just for that." She's received great feedback, especially from those who have experienced severe dry eye and tried many other eye drops for relief. "They say that Retaine is a superior product." She also recommends patients try Retaine when she sees signs of dry eye during a routine annual exam and has them return in a week or two for a dry eye evaluation. "We see how much improvement they experience from Retaine alone."
Dr. Lam has also been prescribing OCuSOFT® Hypochlor® Spray for patients with demodex or those who prefer an alternative cleanser. All of these products are available in the practice for purchase. "I tell patients that this is what I recommend and that they can get it over the counter, but we also sell it here. Most of them buy it here for the convenience, and we offer competitive pricing." They take the sample she gave them in the exam room to checkout, and it's a reminder to the staff to follow up on exactly what she prescribed.
In the time since the practice adapted its work smarter, not harder mentality, Dr. Lam says that she's working less, spending more quality time with patients and made more revenue in 2018 than she had in all her previous years. "We've made more time for patients, and they really appreciate the one-on-one care."