Cathy Doty, OD, can pinpoint her determination to open a practice for pediatric and special-needs patients to a little boy she saw in October 2014. The family had a long wait to get onto her schedule—she's one of the only InfantSEE® and Medicaid providers for pediatric patients in the area. But when she saw him, she recalls feeling heartbroken. At 18 months old, he was developmentally delayed and she could sense the family's stress. It turns out that the child was severely hyperopic, at about +10.00D in each eye. But that started her thinking that she wanted to dedicate herself to these patients. "Families and primary care doctors need someone whom they can turn to quickly," she says.
She spoke to her partners at Family Eye Care, a two-location Vision Source® practice in New Bern and Pamlico, North Carolina. New Bern Family Eye Care already rented a building two parking lots away, which serves as its insurance, telephone and administrative center. The practice leased additional space there, and the work started to create Special Eyes, which opened in May 2015. "We updated the building, with new electrical and plumbing fixtures. We painted with bright colors throughout."
She sees children and special-needs adults; several of those patients she saw in the first few months that the practice was open had never had an eye exam.
Having a separate children's facility helps the office flow in the New Bern practice, as well. "The preliminary workup area at the primary practice have taken over her former two exam rooms, providing them and the technicians with needed breathing room. "I encourage any OD who has gotten to the point where he or she is having growing pains in the main office to look at a niche practice in a separate location," she says.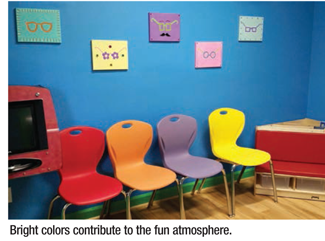 She took her two highly trained technicians with her and hired a receptionist. The administrative staff who work in that building has stepped in to help with some duties in Special Eyes, too. Because the offices are so close to each other, Dr. Doty maintains only a selection of Medicaid-covered frames in Special Eyes, so she can measure and fit those patients right away. Others, however, are escorted by a staff member across the parking lot. A staff member from Special Eyes calls the New Bern office to let staff know a patient is coming, and Dr. Doty's prescription, entered into RevolutionEHR, is printed out at the main office so that an optician is ready to assist the family. "Our dream is to have a golf cart to use to escort these patients. We plan on painting it with eyeballs and eyeglasses," she says.