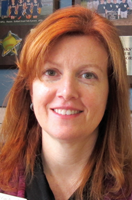 This story was originally published in our March 2011 issue. For the latest information from Dr. Runke, visit greatfallseyecare.com.
"I remember one day, we had one person come in all day," says Kristen Runke, OD, recalling the practice she and her husband, Daraius Unwalla, OD, opened together in 1991. There were no employees, just the two recent graduates who were each working in other places as well to keep up with their loan payments. But the practice picked up quickly, in part because the community of Great Falls, Va., just 12 miles from Washington, D.C., supported the high-end optical and wanted the kind of personal attention Dr. Runke provided. "I live in this community," Dr. Runke says, "so I treat patients like neighbors because many of them are." She schedules two comprehensive exams and one follow-up visit per hour.
Six years after the two opened the practice, the husband and wife team diverged on their professional paths. Dr. Unwalla opened a corporate-affiliated practice in Alexandria, a few towns over, and Dr. Runke stayed with Great Falls Eyecare. "We had always felt it would be better for our marriage to work individually," she says. "The economy was doing well, and this practice could support me full time," she says. The location was near to the children's school, and Dr. Runke wanted to play as traditional a role as she could. Dr. Unwalla's practice was doing well, too, and he opened a second location. By 1999, Dr. Runke added a part-time associate, Lisa Anderson, OD. She, too, had children at home, and both women liked the flexibility the arrangement provided. "She would work every other Saturday, so I'd have a chance to go watch some soccer games," Dr. Runke says.
Along the way they found that the time spent on the sidelines and in the schools helped grow the practice. "I started supporting youth leagues, and I now have a whole wall of Little League plaques," she says. "High school kids come in and look at the photos and say, 'That was me when I was 8.' I like to give back that way."
Her practice philosophy is reflected in the care and education every patient receives. "We dilate every patient," she says, explaining to patients the importance of preventive care. By educating patients on all aspects of eye health, she finds her sales of products such as supplemental sunwear and special-purpose second pairs also increase.
It's a wealthy community, "but people don't spend their money frivolously," she says. It's important that she explain the value of the products she recommends. She has found that this strategy has helped her weather the recession and managed vision care pressures. "We try hard to convey that we sell quality products that will last for years."
That message is shared consistently by the ODs and the office staff. Patients feel at ease as soon as they arrive at this brick, colonial-type home that houses the office. Inside, Cape Cod-blue walls with a ragged texture and cherry furniture help them relax in comfort. Technicians greet patients by name and escort them throughout the process.
The practice has an in-house lab, and Dr. Runke prides herself on the low remake percentage. "We have frames up to $800, and we visit Vision Expo events to look for quality frames that reflect craftsmanship and high style." By bringing in a few options from high-end frame lines, she has been able to judge their appeal to her patients. Then she expands the line if it's successful—a strategy that has allowed her to increase the overall revenue of the dispensary and keep her patient base coming back to see what's new.