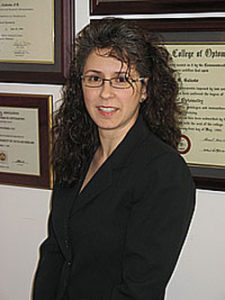 While the past 18 months have been challenging and painful for health care workers, the general lack of control everyone felt was met with a required pause in all our lives. A silver lining came out of the forced peace: time — more time with family, time to learn new skills, gain knowledge and recalibrate to the new normal.
For Niki Toufexis, OD, the gift of time manifested in getting her weekends back for the first time in years.
"I have worked Saturdays since I was 16," she says. "The only time I took off was to go to optometry school." After graduating from Pennsylvania College of Optometry in 1996, she started her six-day workweeks at her private practice, Toufexis Family Eye Care, in White Plains, New York. Initially, the practice was comprised of Dr. Toufexis and her husband, David Galeoto, OD, before they hired an associate, who retired in 2020.
"Patients appreciated us being open on Saturdays because everyone else was closed," says Dr. Toufexis.
When COVID-19 hit, the practice closed for two weeks before opening for emergencies. When they were able to open fully, they limited their hours to Monday through Friday. What they found was that with so many people working from home, patients were able to accommodate mid-week visits.
"We were so busy during the week because everyone was available," she says. "Now the kids are going back [to school], and we will assess if we need to reopen on Saturdays, but it will only be one Saturday a month for young patients."
WHAT NOW?
Dr. Toufexis has been spending her weekends off simply enjoying her family.
"I have three boys, and we are able to spend time together," she says. "We watch movies and play games. My quality of life has improved so much for me having Saturdays and Sundays off because my children are home."
Dr. Toufexis isn't the only one who loves her newfound weekends. Her staff has benefited from the decision, as well. "The staff loves it," she says, happily.
MAKING THE CHANGE
When a practice has to make a shift in hours or availabilty, everyone wonders how this news is going to be received. Getting the word out and assessing patient response are the top priorities. For Dr. Toufexis, the process went smoothly.
"It was simple because we were there Mondays through Fridays," she says. ["During COVID] most patients stayed away from doctors because they were nervous. Then we opened from 10 AM to 7 PM on Monday through Friday. No one asked about Saturdays ever. Pre-COVID, everyone wanted weekend hours."
Some policies from the pandemic will stick around, though. While the practice didn't delve deeply into telehealth, the doctors and staff made a major change to ensure the patient's feeling of safety. "We only saw one patient an hour. That patient had all our attention," she says. "With children, only one parent can come in the room. The whole office is yours."
Dispenses were, and will continue to be, done curbside. This shift proved to be a major hit with the patients. "Patients were happy with these things we are still doing… patients who have been with us for over 20 years" she says.
The practice will continue its regimen of temperature checks, masking and sanitizing. "Everyone is fully aware of the rules."
After Christmas, the practice began scheduling one patient per half hour. In the end, Dr. Toufexis has found a way to make a positive change for herself and her family without rocking the boat too much.
"Business is still good," she says.