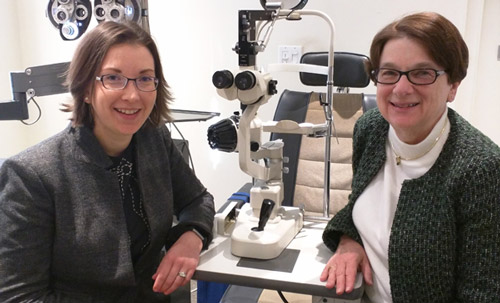 When Linda Bennett, OD, had questions about managing the Belmont, Massachusetts, practice she purchased 30 years ago, she turned to one of the smartest people in the profession at that time: Irving Bennett, OD, who is also her father. The two never practiced together, but he had always served as her sounding board as she built up her practice from doing just about everything herself in one exam lane to now supporting four ODs—all women—in a six-exam-lane practice. One of those is her daughter, Rebecca Maida, OD.
"While the practice was never in the red, it didn't make much money for about five years. In my 18th year of practice, I took on my first associate," Dr. Bennett says. The challenge was that this community, just outside of Boston, is literally one block away from two other towns, one of which is Cambridge. There was a lot of competition. Marketing has been and continues to be very important. "From the beginning, I began sending a newsletter twice a year to everyone in the community, patients and non-patients, and we still do that annually. We've also grown by folding other smaller practices into ours," she says.
Dr. Bennett had always taken the long view to practice growth. And this viewpoint affects everything from marketing, staff education and even new associates. "My philosophy about adding new associates to the practice is that for the first year or two, the owner should be prepared to lose money, at best break even. I want the new OD to hone her skills in clinical decisions and garner compassion so that she can become a great OD and help the practice grow," she says. The practice celebrated its 30th anniversary in the community in February.
Dr. Maida, who told herself and her mother that she did not want to become an optometrist, grew up there anyway. "I started as the secretary in my mom's practice on Saturday mornings, and I had done every job that I could by the time I got to college," she says. But true to her word, she graduated from the University of Michigan with a teaching degree and taught seventh grade math for two years. Even there, she was following in her mother's footsteps, as Dr. Bennett taught school for seven years before getting her OD
degree. But in her second year of teaching, Dr. Maida had second thoughts about becoming an optometrist and began taking the prerequisite classes so that she could enroll at New England College of Optometry. Dr. Bennett also encouraged her to talk with her grandfather. "I knew the field of medicine was changing, and I wanted her to have his perspective," she says. When Dr. Maida was in school and had questions, she turned to one of the most talented and successful people she knew in the profession. "I used to call my mother while I was in clinic to discuss my findings on the clinic patients I was examining and ask her for advice about prescriptions I was about to write," she says. While the two had determined that there would be a place at Bennett Family Eye Care for Dr. Maida, the younger OD still needed to prove her worth.
Dr. Maida says that joining her mother's practice wasn't exactly a cakewalk, either. "Everyone who worked in the office had known me for years. They knew me as Rebecca, and I needed to make sure that everyone felt confident with me as a doctor," she says. They reinforce that by calling each other "doctor" instead of "Mom" and "Rebecca."
Dr. Maida also brought new clinical and organizational skills to the practice. "I started a staff schedule, and we began having more meetings, which provided a value and structure that was needed as the practice grew," she says. Dr. Bennett adds that her daughter also brought vision training to the practice. "Every young OD should bring a specialty, whether that's scleral lenses and orthokeratology, low vision or vision therapy, for example. That way, when new patients need those services, they're automatically referred to that new doctor in an intra-office referral," she says. "That strategy ensures continued growth and innovation in the practice. This happens to fit well with our practice's philosophy, which is to provide the best patient care. We always have the newest products and technology, and our patients have come to expect it. Our patients are excited to see new equipment, instrumentation, products and services. That anticipation of seeing what's new is something that has allows us to continue to grow."