By Selina McGee, OD, FAAO
I came into practicing aesthetics a bit by accident, unexpectedly building this beloved pillar of my practice. I was frustrated when in some patients, my therapeutic approaches failed to markedly improve dry eye disease (DED). I was missing a key component. Digging more into these patients' issues, I saw an underlying trend: the use of beauty products containing harmful ingredients that exacerbate—or in some cases cause—DED.1,2
At the same time, I would see patients who were overly aggressive with neurotoxin injections for wrinkles in the periocular develop changes to their blink reflex.2 Plus, DED patients frequently have conditions like floppy eyelid syndrome, ectropion or lid laxity that have an impact on blinking. All of this taken together can sabotage our best efforts to manage or prevent DED.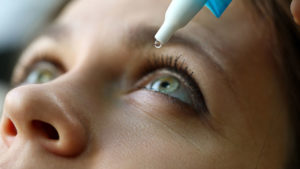 As eye care providers, we are ideally positioned to understand how best to inject neurotoxin treatment to avoid such adverse effects. When I would perform radiofrequency lid treatments to treat lid margin disease, patients' blink reflex would improve. Intense pulsed light therapy helps alleviate ocular rosacea which we now know causes meibomian gland dysfunction and DED.3 Aesthetic and dry eye conditions and treatments go hand in hand.
MY PRACTICE FLOW
We use a questionnaire meant to elucidate both dry eye symptoms and aesthetic concerns for new patients. Examples of the latter: Do you want your eyes to be more open? Do you have dark spots or skin issues that you would like addressed? Do you have droopy lids? Looking for and discussing dry eye is part of a comprehensive workup, including for those who are strictly receiving an aesthetics consult.
We also co-manage oculoplastic cases. For these individuals to have the best outcomes and avoid a delay in their procedure, the ocular surface must be in prime condition. The importance of the ocular surface cannot be overlooked in the context of surgical procedures as well.
EDUCATING AND EMPOWERING
When educating patients on the "do's and don'ts" of their beauty, skin, hygiene, and diet routines, we should be leaning into giving them options, otherwise we are making it very difficult for them to be compliant. On top of that, particularly when it comes to cosmetic ingredients, this is very complicated. I want to empower them to know what specifically to avoid so I provide them with a card listing these substances. To further simplify things for patients, I carry products in my office that I have researched and vetted, so they do not have to.
I carry sunscreen from Epionce because the eyelids are the most common place where skin cancer occurs; this is not something most patients know. I also make sure they know to wear high-quality sunglasses for protection. Among the other products I make available are make-up remover towelettes that do not contain BAK (Eyes Are the Story), mascara, and eye liner (Eyes Are The Story). I also have artificial tears (preservative free-Refresh Mega [Allergan, an Abbvie Company], Ivizia [Similasan Corporation], and Optase HyloNight ung [Scope]) as well as nutritional supplements, including HydroEye (ScienceBased Health) created specifically for dry eye patients.
I favor HydroEye because it includes the unique and specialized omega-6 fatty acid gamma linolenic acid (GLA), which boosts the efficacy and allows it to work on two different pathways, as well as the right ratio of omega-3 fatty acids (eicosapentaenoic and docosahexaenoic acids).4,5 GLA is found only in ultra-trace amounts in the diet. When we discuss supplements, I explain that they are beneficial for ocular and overall health. HydroEye has been validated in a randomized clinical trial, which found improved symptoms, lower levels of inflammatory markers and improved tear film. Additional clinical studies support GLA, showing it improves dry eye signs & symptoms in a variety of dry eye populations.7-11 Patients also report that this supplement helps the quality of their skin. When patients are already taking an omega supplement, I discuss the importance of the correct ratio and the two-pronged approach, and I suggest they finish what they are using and then switch.
CHANGE YOUR MINDSET
I suggest practitioners concerned about "selling" products change their mindset: swap sell for help. I am helping patients live their best lives by offering high-quality clinically proven products I have taken the time to vet. Too many products make marketing claims with no scientific support. If we do not educate patients and offer the solutions, we are not truly helping them make the best choices.
I may see aesthetic issues of concern that not mentioned by the patient; I ascribe to the "ask and look, look and ask" approach. Droopy lids, for example, may be causing problems, perhaps I can see on digital wide-field photos that they impair the field of view. I ask, "have you noticed your eyelids are starting to fall? Do you feel tired at the end of the day?" I am educating them to help them take better care of themselves. This takes place during the course of my exam, and I believe that is when we can make magical things happen.
I don't want eye care providers to be intimidated by these conversations; I have yet to have a patient take offense to being educated about aesthetic issues. When they understand that often these things have a functional component, they are grateful. No one else understands the ocular anatomy like we do. Providing patients with comprehensive education, having vetted products available, and offering aesthetic services empowers them to take steps that improve their overall health and enables them to live their best lives!
Selina R. McGee, OD, FAAO, is the founder BeSpoke Vision in Oklahoma and is also immediate past-president Oklahoma Association of Optometric Physicians. Dr. McGee is a consultant to Allergan, an AbbVie Company, ScienceBased Health, and Thea.
Yazdani M, Benedikte Prestø Elgstøen K, Utheim P. Eye make-up products and dry eye disease: a mini review. Review Curr Eye Res. 2022;47(1):1-11. doi: 10.1080/02713683.2021.1966476.

Coroneo MT, Rosenberg ML, Cheung LM. Ocular effects of cosmetic products and procedures. Ocul Surf. 2006;4(2):94-102. doi: 10.1016/s1542-0124(12)70031-9.

Schaumberg DA, Nichols JJ, Papas EB, et al. The international workshop on meibomian gland dysfunction: Report of the subcommittee on the epidemiology of, and associated risk factors for, MGD. Invest Ophthalmol Vis Sci. 2011;52:1994-2005.
Kapoor R, Huang YS. Gamma linolenic acid: an anti-inflammatory omega-6 fatty acid (Review). Curr Pharm Biotech. 2006;7:531-534. doi: 10.2174/138920106779116874.
Barabino S, Rolando M, Camicione P, et al. Systemic linoleic and gamma-linolenic acid therapy in dry eye syndrome with an inflammatory component. Cornea. 2003;22(2):97-101. doi: 10.1097/00003226-200303000-00002.
Sheppard JD, Singh R, McClellan AJ, et al. Long-term supplementation with n-6 and n-3 PUFAs improves moderate-to-severe keratoconjunctivitis sicca: a randomized double-blind clinical trial. Cornea. 2013;32:1297-1304. doi: 10.1097/ICO.0b013e318299549c.
Macrì A, Giuffrida S, Amico V, et al. Effect of linoleic acid and gamma-linolenic acid on tear production, tear clearance and on the ocular surface after photorefractive keratectomy. Graefes Arch Clin Exp Ophthalmol. 2003;241(7):561-566. doi: 10.1007/s00417-003-0685-x.
Aragona P, Bucolo C, Spinella R, et al. Systemic Omega-6 essential fatty acid treatment and PGE1 tear content in Sjogren's syndrome patients. Invest Ophthalmol Vis Sci. 2005;46:4474-4479. doi: 10.1167/iovs.04-1394.
Kokke KH, Morris JA, Lawrenson JG. Oral omega-6 essential fatty acid treatment in contact lens associated dry eye. Cont Lens Anterior Eye. 2008;31:141-146. doi: 10.1016/j.clae.2007.12.001
Pinna A, Piccinini P, Carta F. Effect of oral linoleic and gamma-linolenic acid on meibomian gland dysfunction. Cornea. 2007;26(3):260-4. doi: 10.1097/ICO.0b013e318033d79b.
Brignole-Baudouin F, Baudouin C, Aragona P, et al. A multicentre, double-masked, randomized, controlled trial assessing the effect of oral supplementation of omega-3 and omega-6 fatty acids on a conjunctival inflammatory marker in dry eye patients. Acta Ophthalmol. 2011;89(7):e591-7. doi: 10.1111/j.1755-3768.2011.02196.x.