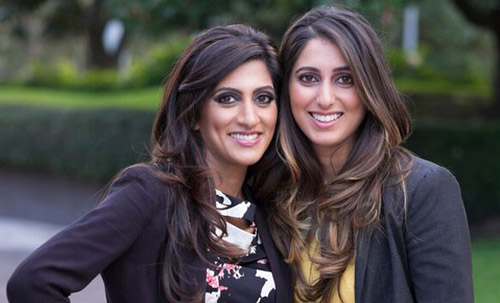 Sairah Malik, OD, and Sana Malik, OD, make an excellent team. The sisters, six years apart, realized they have complementary strengths that make for a great partnership.
"She is good at the things I am not and vice versa, so we make a great team," says Dr. Sairah Malik, the older sister. After she graduated from University of Houston College of Optometry in 2005, she spent seven years as the clinical director for a large lasik center. Her younger sister attended Salus University Pennsylvania College of Optometry. They always dreamed of creating their own brand one day, encompassing a vision about which they were both passionate.
However, the younger sister's plan was to return to their hometown of Vancouver, Canada. "I thought long and hard on how to convince her to move to Houston, giving up a great job in a beautiful city," Dr. Sairah Malik says. She says she made the phone call and told her sister: "'Pack your bags; we are starting our own business.' The next weekend she was in Houston, and we were negotiating terms to buy our first practice."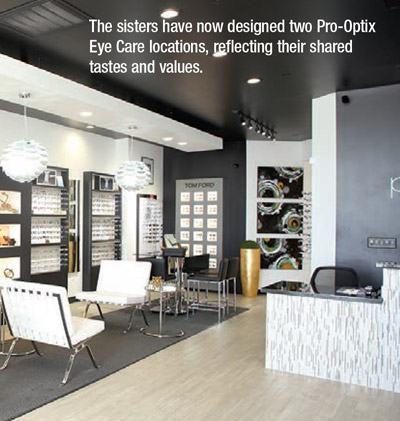 Even though they were sisters, they spent some serious time talking about their practice and life goals to make sure that their business philosophies meshed. Dr. Sairah Malik is grateful that her sister came. "I don't think I would have done it without her. I know that in order to be successful in any business, you have to give it 110 percent. As moms, wives and career women, it was nice for us to have partners and, more importantly, partners we can trust."
In 2012, the sisters opened the doors in Sugar Land, Texas, to Pro-Optix Eye Care, which they had purchased from a retiring OD. The practice was declining as the OD was rarely there, and there was virtually no existing patient base to tap into. The sisters hustled and turned the practice around and were profitable in the first six months. Three years later, in September 2015, an unexpected opportunity arose to open a second location in the prime Tanglewood Galleria area of Houston. "It was a location and opportunity we could not say no to," says Dr. Sairah Malik. This time around, they built the practice from scratch. "We had a lot of fun building this practice. We learned everything not to do with the first one and just hit the ground running with the second location."
Dr. Sairah Malik says that businesses are a lot like having children. "The first time around, you worry about everything—and many of the wrong things. The second one is much easier, as you have all protocols in place and you know exactly what's coming."
It's a little too soon for a third, but that option is not out of the picture, say the sisters. They like the idea of building a Pro-Optix brand in the city. The young, ambitious entrepreneurs are proud of what they have built so far. "We don't come from a business-oriented family, so being the first women-owned business is something we both are very proud of," says Dr. Sairah Malik. They will continue to look for new and more opportunities to build their brand.