Juanita Collier, MS, OD, FCOVD, of Cromwell, Connecticut, opened 4D Vision Gym two years ago, after seeing the demand for vision therapy services in her region. In fact, even as a relatively new practice, she says she's been very busy. New patients are booked two months out. "I'll do some primary care for family members of patients. However, due to my waiting list, most of my patients are here for the specialty care I provide, not necessarily primary care."
She also does not have an optical dispensary because she wants other ODs in town to know that her practice is focused on vision therapy, sports vision and an increasing amount of post-concussion therapy.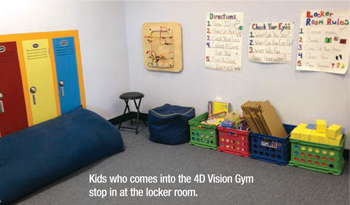 While she works with adult patients as well, most of her practice population is children and teens. She sees a lot of middle school and high school athletes who have suffered concussions, referred to her by an increasing number of concussion centers that have opened. Most of these patients spend about two or three months, with several weekly visits, in vision therapy, where she works to remediate any underlying binocular vision problem. "So many of these athletes have been able to compensate for an underlying vision problem, but it's really important that these are addressed," she says. Because these young athletes may have been good at their schoolwork and good at sports, previous doctors may not have looked too carefully at these binocular issues. "But in that split-second decision where an athlete has to decide how to move when there's a potential impact with another player or a ball, binocular vision can be extremely important," she says.
Patients who have vision therapy for learning issues, many of whom are on the autism spectrum, can come in weekly for six months to a year. That's one reason that Dr. Collier envisioned her practice as a "gym" and not a more medically oriented therapy location. In fact, it mimics an exercise gym. Patients are given membership cards that they show when they check in at the front desk. Their first stop is the "locker room" and from there, they're taken to one of six therapy rooms, some designed to look like a gym, complete with the rubber padded flooring. "So many of these young patients already go to several different therapists. We wanted this to feel like a place that they want to go to, not just have to go to."
Dr. Collier has been intrigued by vision therapy as she learned the impact it could have on issues such as learning, mental fogginess, balance, headaches and more. "I had always been a good student, but when I hit college, everything became more difficult. I thought maybe I wasn't seeing properly, and my eye doctor gave me reading glasses—that made my convergence insufficiency worse." In optometry school, when she realized the impact of vision therapy, she was hooked.
She has eight vision therapists or assistants working for her, and she's trained them all. The practice also accepts many medical insurances because she wants to make sure people who need vision therapy can access it.