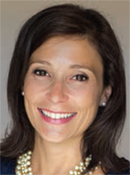 Leslie O'Dell, OD, FAAO, joined Wheatlyn EyeCare in Manchester, Pennsylvania, a year ago and established the Dry Eye Center of Pennsylvania under the same roof with a unique name and website. The partnership with Wheatlyn EyeCare has proved mutually beneficial to physicians and patients alike. "The distinction of having a dry eye center within a practice seems to be working well with how patients perceive what I'm doing here," Dr. O'Dell says. It has also helped with referrals from other eye care providers, notably six ODs and a cornea specialist MD/OD group in the same town.
Dr. O'Dell says patients seem grateful. "They love their doctors. They tell me, 'I'm so glad he or she told me you were here.'" Dr. O'Dell addresses any dry eye symptoms and develops a treatment plan that she and the referring doctor can both follow.
With a growing body of research on dry eye, diagnostic and treatment strategies for the disease are becoming increasingly complex. Dr. O'Dell says, "Many doctors don't have the technology in their practices to assess the patient's condition or to determine
whether the cause is aqueous deficiency, evaporative dry eye, a combination or an unrelated factor, like demodex, anterior blepharitis or basement membrane dystrophies that can cause recurrent erosions." That's why referrals to a dry eye specialist are worthwhile. "The underlying factors determine the treatment."
For example, a patient with aqueous-deficient dry eye but no active inflammation would be a good candidate for cyclosporine and/or tear supplements and punctal plugs, such as the Comfortear® plugs from Paragon BioTeck, Inc. For evaporative dry eye patients, Dr. O'Dell's goal is to restore proper functioning of the meibomian glands. Dr. O'Dell's center sells Bruder® masks and fish oil, and it invested in the LipiFlow® Thermal Pulsation System shortly after opening.
Dr. O'Dell tries to target dry eye before it becomes problematic. "Anterior blepharitis is a big issue. I'm trying to be more proactive than reactive by looking at every patient's lid and margin. I also explain the importance of cleaning the lid every day," Dr. O'Dell says. Her outreach even extends to children. Nobody wants to get soap in their eyes—especially not kids, and many people also want to avoid cleansers with preservatives, so Dr. O'Dell recommends ilast Clean® by Paragon BioTeck, Inc., as part of a daily treatment regimen. "You don't have to wash it off, and you can rub it in. It gently cleans lids and lashes."
She also recommends ilast Care®, a hydrating lotion to use around the eyes. Both ilast® products contain hyaluronic acid, a hydrating component that soothes the delicate skin around the eye. "Patients are interested in looking younger, and hyaluronic acid is so hydrating. Many people don't know that retinol can destroy the meibomian glands. Even if you use it only on your cheeks, it can migrate to the eyes. So I always ask people what they're using. For those who use a retinol product, I explain that they should use something better," Dr. O'Dell says.
Dr. O'Dell also sells the ilast products in her practice. "They retail for $44 to $49, so for anyone who has purchased higher-end products, this is quite affordable," she says. As her dry eye practice continues to grow, Dr. O'Dell continually discovers more reasons to recommend ilast. "It's great during allergy season to cleanse the area around the eyes," and, she says, "it's wonderful for anyone with dermatitis. I recommend it for patients after treatments such as LipiFlow®, BlephEx® and tea tree oil for demodex. It soothes and calms the skin so nicely."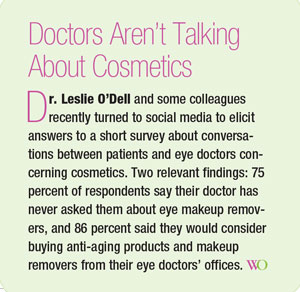 Selling products other than contact lenses or eyewear is still a relatively new concept, but employees have found the additional tools useful. "Everyone's excited at this stage," Dr. O'Dell says, and once technicians understand the benefits of these products, they're eager to recommend them. To expand her staff's knowledge, Dr. O'Dell holds occasional seminars where she discusses new facial products and their effects on the eyes and eyelid area.
Dr. O'Dell feels the Dry Eye Center of Pennsylvania serves as an important resource for dry eye patients across the nation. For those who call from outside of Pennsylvania, Dr. O'Dell searches the Tear Film and Ocular Surface Society directory. "I've received calls from people all around the country asking me where they can find a doctor to help them with their dry eyes," she reports. For those in Pennsylvania, dry eye relief can be found under the same roof as Wheatlyn EyeCare, making comprehensive eye care more accessible than ever.