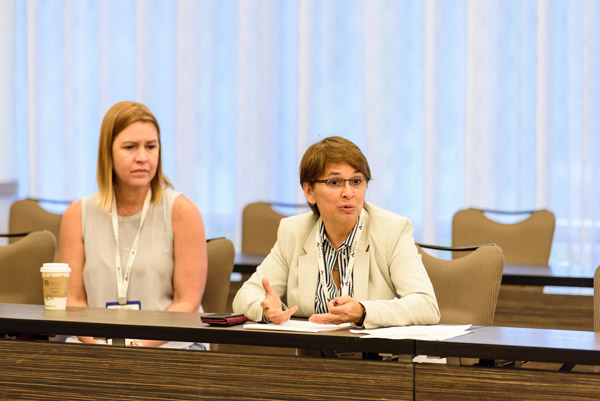 Although Professional Eye Care Associates of America (PECAA) began as an organization "right in my backyard," Joan Ploem Miller, OD, of Baseline Vision Clinic in Hillsboro, Oregon, says that she didn't pay too much attention to the group at first. Only after deciding to leave another network did she begin to look at it more seriously. "After talking with the PECAA staff, I felt like this would be a good fit," she says.
Organizational leadership is important to Dr. Miller. As the head of the popular, 4,000-plus-member strong OD Divas Facebook
Group, Dr. Miller has stretched her own leadership wings in the last few years. She started the group about a year ago "with 26 female ODs who were my friends," she says. As the requests to join the closed group began to grow, she asked a few others to serve as administrators to help out. The focus throughout has been to create a respectful, supportive and kind atmosphere. "The
tone has been wonderful. The vast majority of the time, people follow the guidelines," she says.
To her, the relationships fostered in networks like PECAA and OD Divas are similar: there's an ideal of working together toward a
common goal of helping patients and helping ODs. PECAA offers peer-to-peer regional events, as well as a national member event
where business education meets collaborative sharing. "I feel like the PECAA leadership cares about the ODs in its network. The leaders work hard at communicating the benefits of the organization and keeping their members up-to-date with changes in the professional environment," she says. "We have access to product information and tips about managing the office. PECAA resources have helped my office manager find areas where we can improve and better understand the competitive forces."
Education is emphasized as well, she notes, an aspect of practice management that is particularly important to her. "I have
learned that it's way better to be overstaffed than understaffed, especially if being understaffed causes employees to make
mistakes," she says. "One patient who chooses not to buy eyeglasses because the staff members are harried or making errors is going to cost you more than a staff member's salary that day." Doctors should not stress too much over the bottom line of
salary if the practice is humming along. "People tend to forget about the efficiencies that come with a well-trained staff," she says.
PECAA's focus on doctor and staff education also helps her delegate more confidently. "There's a peace of mind in knowing that the staff can do what's needed. Do I want to adjust eyeglasses? Not really, but if doctors are not confident in their staff, it's more difficult to delegate the small tasks," she says. "Optometry tends to attract perfectionists, so I've had to learn to let employees do their jobs."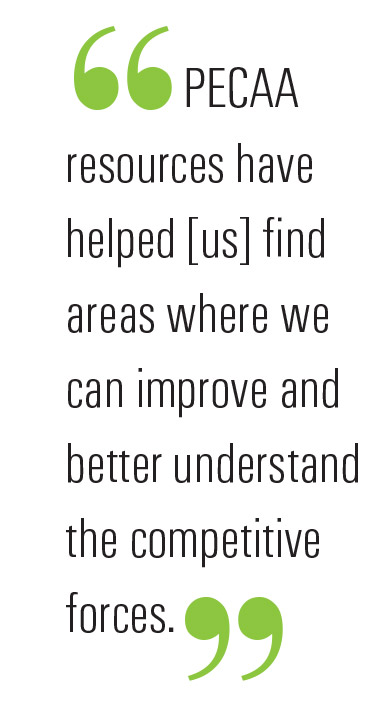 PECAA provides courses and webinars, as well as sample tests so that staff members can prepare for certification exams. The training covers a range of office positions—from managers to ophthalmic assistants and opticians—for both new and experienced staff. In addition, the organization offers support in areas such as marketing, billing and coding and human resources.
That delegation allows Dr. Miller to focus on patient care and building the business. Having practiced optometry for nearly
four decades, Dr. Miller anticipates selling the practice to her associate, Sarah Olmschenk, OD, in the not-too-distant future. Dr. Miller will then continue seeing patients on a part-time basis. "I want to set up the practice so that she can thrive," Dr. Miller says. That means selecting not only the associate who is eager to help grow the practice but patients who understand that the quality of the products and services offered warrant a higher cost than the competition. "We attract that type of patient because our staff is
so good at explaining the value of better products."
Doctors and staff alike are also open to learning new things. "Today I repaired an exam chair," Dr. Miller says, laughing. It's an
uncommon occurrence, but a reminder that someone has to step in when there's a gap. "PECAA reminds us that we have to deal with
the business. We have to become educated in areas where we're not as good, as well as the areas that we enjoy," she says.