According to a recent Women In Optometry Pop-up Poll, a majority of the respondents showed growing concerns for the delta and other variant cases across the U.S.
EFFECT ON HEALTH
Respondents were asked if they were worried for their own and their family's health from COVID-19 and its variants, rated on a scale from 1 (not at all concerned) to 5 (very concerned). Nearly half (49 percent) of respondents said that they were somewhat to very concerned, and approximately three-fourths of the respondents rated their concern at 3 or higher: 21.6 percent rated a 3, 32.4 percent rated a 4 and 16.7 percent rated a 5. Another 20.6 percent rated a 1, saying they were not at all concerned with COVID-19 cases.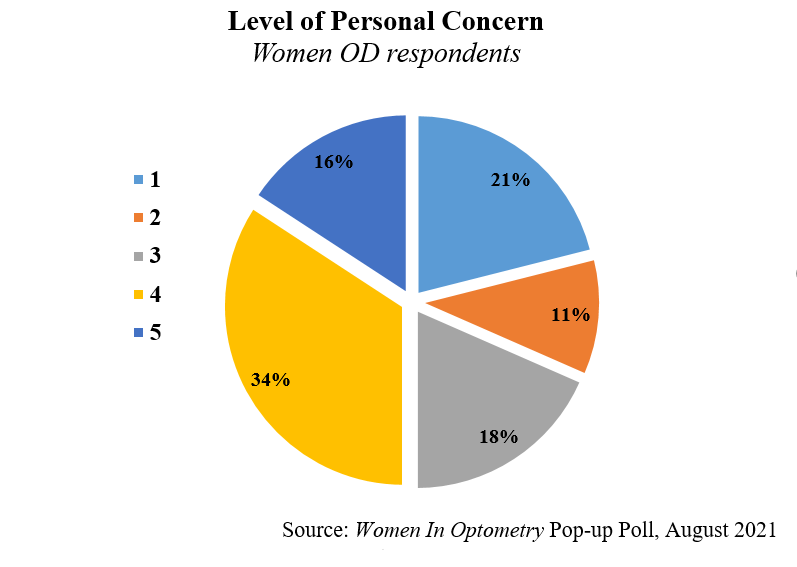 TAKING ACTION
The increasing concerns were reflected in their businesses. More than half (54.9 percent) of respondents rated a 4 or 5 when asked if they were worried about business disruptions from COVID-19 and its variants. About 16 percent were less concerned about disruptions to their businesses: 8.8 percent rated a 2 and 6.9 percent rated a 1.
As a result of the ongoing, and increasing, cases, 54.5 percent of respondents said they practice mask-wearing in indoor settings without social distancing, and 45.5 percent of respondents said they reinstituted safety protocols in the office. Some businesses haven't changed their previous behaviors, as 43.6 percent of respondents said they constantly remain cautious and have not let up on past safety protocols.
Nearly 16 percent of respondents said that they are taking extra precautions personally to protect unvaccinated children in their households. In addition, 13 percent said that they had canceled or are considering canceling work-related travel, and 11 percent said that they are doing the same for family/leisure travel.
COMMENTS
Several respondents shared the personal and business-related concerns they have for COVID-19 and its variants.
One female OD shared her worries about the community's ability to reach herd immunity: "I am concerned about the area where I live because only 35 percent of individuals are fully vaccinated. This only limits what we are able to do safely. I don't understand why health care providers are hesitant to vaccinate if they are healthy and at greater risk for infection by the sheer nature of the work they do."
Another respondent, not an OD, expressed the lack of transparency with COVID-19 reporting: "In all honesty, when COVID-19-related illnesses occur, or more specifically death, I wish there was more transparency to the actual health and co-factors to the patient. This would be a much better barometer of this virus and should scare or encourage people to take their health seriously."
The majority of respondents, 82.5 percent, said they were fully vaccinated. Seventy-seven percent of the respondents said they were women ODs.