A Women In Optometry Pop-up Poll on how practices have been affected by coronavirus shows the changing attitudes over the period of time that the poll was open.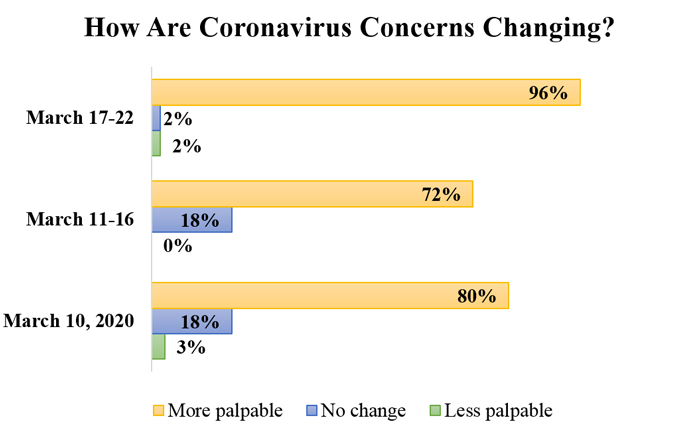 These charts show that as the days and weeks went on, more patients were cancelling in the last days that the poll was opened, more respondents said they were voluntarily closing their offices.
Here are some of the comments that also reflect the growing uncertainty about the situation from varying times.
From 3/10/20
"I am hoping [business] picks up. Trying to stay busy and not panic. Hopefully it does not affect my quarter."
"No real effect to the office, all perceived concerns from patients."
"My husband went to a local sports store, chain restaurant and ice cream shop last night. We have never seen so few vehicles parked at any of these locations."
From 3/16/20
"We have called at risk patients and asked them if they would like to re-schedule. Some have and some have not. My schedule was still about 80% full. But I don't know that we will be able or should stay open much longer. We are not in a high risk area…yet."
From 3/17/20
"I have been proactively rescheduling my high risk patients and 65 years and older patients."
"As a Californian optometrist, we are sheltering in place. I am currently in email and phone contact with some of my more crucial patients."
From 3/20/20
"I am in Western PA, so a little behind the coasties in their response and experience. I would like to see every citizen tested then move on with our care of patients!"