When Women In Optometry asked its readers if they had a memorable mentor – or mentors – when they were starting their careers, respondents gave varied responses.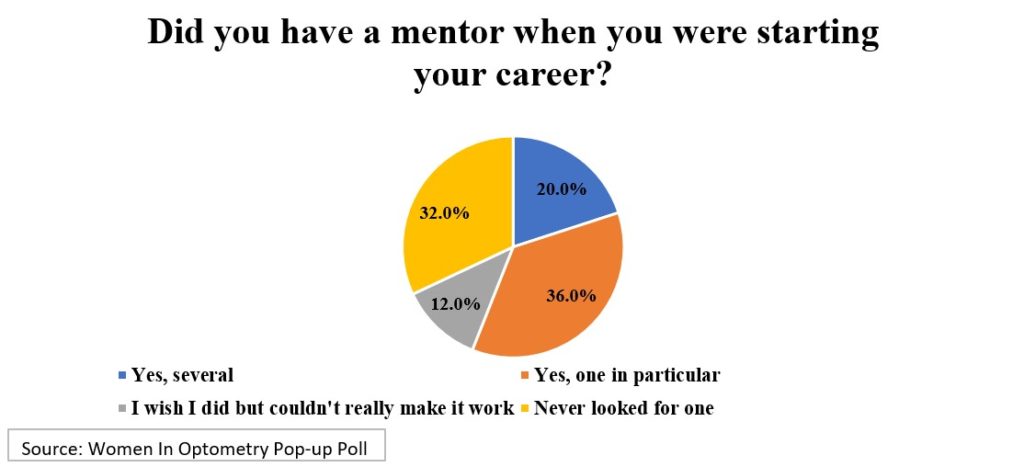 WHAT DO YOU WISH SOMEONE HAD TOLD YOU?
Several respondents shared advice they would like to tell themselves, with many emphasizing self-care and business education.
"You do you for you. Everyone is on their own journey. Don't compare yourself." – Diana Canto-Sims, OD, of Chicago, Illinois
"Rest and play are just as important as the hustle and hard work." – Jennifer Zolman, OD, FCOVD, of Charleston, South Carolina
"You need to spend time learning the business side of things, not just the medical and optical." – Shelby Robinson, OD, of Tacoma, Washington
"It is important to take care of your mental health and well-being. Make time for yourself/find an activity that you love outside of work." – Brittany Lemke, OD, of Tomahawk, Wisconsin
"It's about the building. Get away from overpriced urban areas. Draw a map of the U.S. where an optometric income can buy a clinic building, buy or build your clinic at the prettiest place on that map and don't move for 40 years. You will save about $5 million in rent and own a $5 million dollar building at the end of your career. You will be able to retire sooner and better. Period." – Greg Pearl, OD, of Norwalk, California
"Money is good, but the older you get, you'll realize how valuable time is. So learn how to carve time for yourself and your family. Also, private practice is great but it's not for everybody. Make sure it is right for you before you decide to go that path." – Lucia Patino, OD, of Jackson Heights, New York
"Be patient. You're doing great." – Jackie S. 
The majority of respondents were female ODs.