Shaking patients' hands may become a fad from the past after the COVID-19, says many respondents to a recent Women In Optometry Pop-Up Poll, which asked readers to access the lasting impact from the pandemic. Indeed, 59 percent said that they may never shake patients' hands again. Some safety precautions may stay for the long haul, as well, with 57 percent saying that they may never ease back on disinfecting protocols, and 51 percent stating that they may never remove acrylic shields that they have installed in their offices.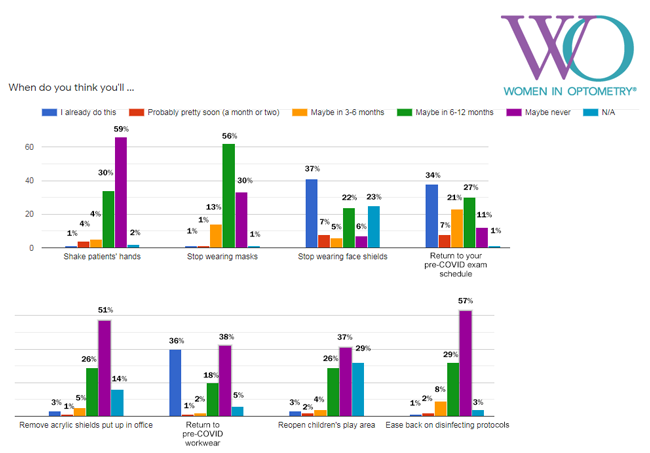 More than a third of respondents have stopped wearing face shields (37 percent), returned to pre-COVID exam schedules (34 percent) and returned to pre-COVID workwear (36 percent). Yet 38 percent said they may never return to their pre-COVID workwear. Fifty-six percent said that they anticipate wearing masks for at least another six to 12 months.
Poll participants were asked to share what factor or factors drive their decisions regarding the above actions:
Guidance from organizations like the CDC, AOA, etc.: 78 percent
Regional/state COVID-19 tracking numbers: 75 percent
Their own comfort level: 71 percent
Availability/access to a vaccine: 42 percent
Emergency room/hospital occupancy rates: 24 percent
It's not their decision to make: 11 percent
On a scale from 1 (not very safe/protected) to 5 (extremely safe/protected), respondents were asked to rate how they feel at work now in terms of potential exposure to COVID-19, and many cited that they do feel quite safe at work: 23 percent rated 5, 47 percent rated 4 and 25 percent cited 3. Just 5 percent cited 2, and no one selected 1.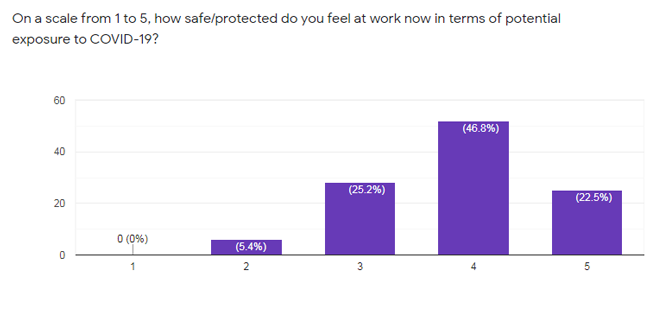 Will the pandemic have a lasting effect on career advancement and professional networking? Forty-six percent said somewhat, but they expect it to be temporary, while 28 percent said they don't see a negative or positive impact. Eight percent said that the professional isolation is having a negative effect.
Several respondents shared additional comments on the lasting impact that they anticipate.
Clinic may be closing its doors by end of year
I didn't shake hand before the pandemic, because people are gross. So this did not change my hand shaking protocol.
We already converted our children's playroom into a contact lens area!
Really want to get back to live meetings however very willing to wait
It has made us look at office efficiencies, expenditures, preparedness more carefully. Our staff is a tighter team working through all the issues that have come up through the pandemic
Not practicing as much as I would like because of virtual school for my child.
long-term impact will be permanent: for too long patients have brought crowds in for an eye exam, and too many parents have brought sick children in for an exam or to accompany another person, either child or adult patient. Those days are over. It has always irritated me when this happens, and Covid is the straw that broke the camel's back.
Rural practice is going strong and we need more ODs.
I may sell my practice.
I graduated into the AIDS/HIV pandemic. There are things we have done differently since then. Some of the changes this pandemic has caused will be permanent.
Majority of patients wear masks. If they are not wearing one they are asked to leave. It seems the patients that won't wear a mask are extremely rude and argumentative about the situation. We are just following state guidelines for everyone's safety, including our own health and safety. We have had several people use inappropriate language in their argument about everything from their rights to you can't tell me what to do to I know I'm not sick. There should be some kind of mandate on how to handle these situations. We have lost several families that have been life long patients over this. That's the hardest part about all of this.