The number of in-person conferences and professional events plummeted in 2020, and remote meetings became the new norm for most optometric professionals for at least a year. A recent Women In Optometry Pop-up Poll sent out just after Optometry's Meeting, found that now that most meetings have a live element in 2022, 44 percent of the respondents said that they are rarin' to attend in person.
About 20 percent of respondents said that they've been coming back cautiously, and another 13 percent said that they have avoided live meetings up until this point but might be ready to return. Just more than 23 percent  said they have no plans to start attending in-person events anytime soon – noting that they stayed away from live conferences even before the pandemic.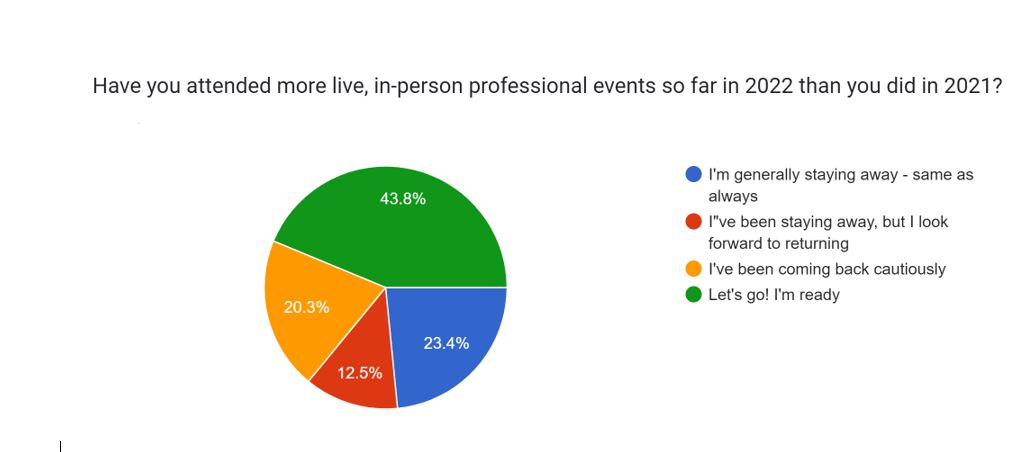 Whether or not respondents personally wanted to start in-person networking again, almost two-thirds  (63 percent) of all respondents said that while live meetings have a place, virtual meetings have distinct advantages. Just more than 20 percent said that they prefer to get their CE/industry engagement virtually or online, while 17 percent said that nothing beats a live meeting.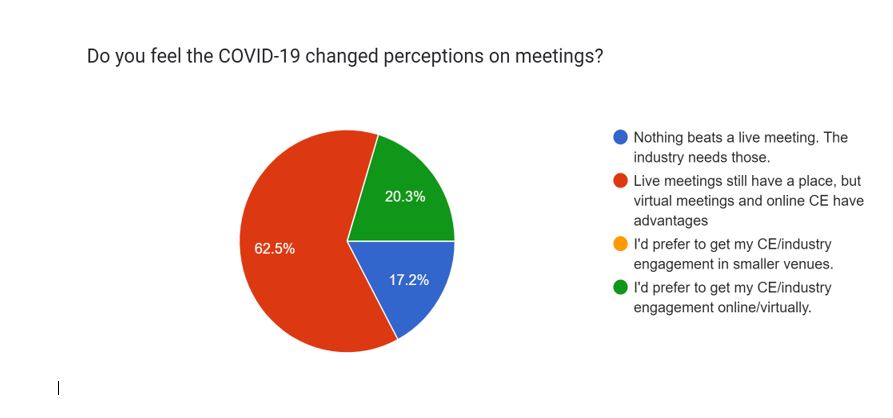 Respondents who enjoy virtual meetings generally focused on what the meetings did not cost them: time away from the office, time in traffic or travel, time away from their families and the costs involved. Ongoing concerns with COVID-19 exposure was a factor for many, and quite a few said that they were freed from geographic boundaries and could attend interesting sessions no matter where they were hosted or held.
Benefits of Virtual Meetings
In contrast, those who stated their preference for live meetings talked about the "extras" that those meetings delivered: connections, networking, exhibit hall conversations, meeting panelists and colleagues, the ability to travel, camaraderie, freedom from office- and home-based distractions and the food. A few respondents noted that their states require in-person participation to earn CE credit.
Benefits of Live Meetings
Several respondents wrote in answers.
"Having the option of attending large meetings virtually (like Academy) allows doctors to access premier education without the expense and difficulty of traveling and making arrangements for child care while away. I know many women 'direct traffic' in their household and it can be hard to do from a distance."
"I just attended a live meeting and feel motivated and energized to make changes in my practice, something I have not felt after virtual classes."
"Online meetings are preferred because I usually get more out of them. I get so bored sitting in a lecture hall for hours at a time, and my attention span suffers. It is also more expensive to attend in-person meetings (time off work, travel costs, childcare)."
"I love our in-person state association meetings. We have been back in person for about a year, and it has been refreshing to see people again."
"Time to get back to it."
"State regulations have not kept up with the technology. Most states waived in-person requirements for 2020 and 2021 but went back to their previous restrictions or limits on online CE,  and it isn't totally clear about 'live virtual' CE. It is hard to find small in person events locally."