The majority of respondents (85 percent) to a recent Women In Optometry Pop-Up Poll shared that nutritional supplements are a regular part of their routine. Another 14 percent said that they do occasionally, while just 2 percent did not currently take them at all.
Of the respondents who said that they do take supplements, 65 percent take a multivitamin, 64 percent said a specific vitamin or complex and 66 percent consume a non-vitamin/mineral product such as a green tea, fish oil, glucosamine, flax seed, etc. Vitamins B, C and D, iron, calcium, lutein, zeaxanthin, chlorophyll and collagen were among some of the specifics named by respondents.
Eighty-four percent said that they take vitamins and/or nutritional supplements for their overall health and wellness. There were a number of other factors they included as reasons, as well.
Immunity: 39 percent
Anti-aging benefits: 31 percent
Energy: 25 percent
Ocular health/dry eye: 25 percent
Heart health: 24 percent
Bone health: 20 percent
Ocular health/AMD: 18 percent
Pain: 11 percent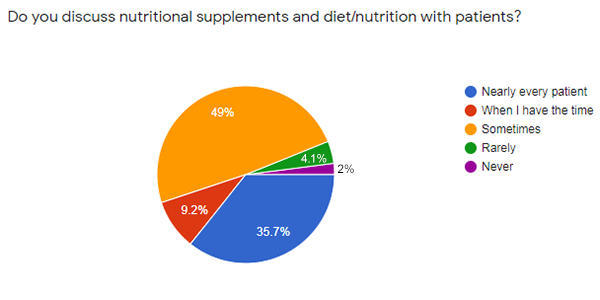 About half (49 percent) of respondents said that they sometimes discuss nutritional supplements and diet/nutrition with patients. For 36 percent, it's a regular conversation with nearly every patient. Nine percent said they add in this discussion when time allows. Four percent of respondents rarely talk about supplements, and 2 percent said that they never do.
More than half (56 percent) of respondents sell nutritional supplements, and another 30 percent do not currently sell them.
Eighty percent of respondents to this poll were women ODs; 11 percent were male ODs.
Some poll participants shared additional comments as included below.
You cannot defeat nature. You can enhance it, slow it down, and occasionally bend the path of it. If you do nothing, nothing will change. Things like better diet, vitamins and supplements, proper rest and exercise, and lots of things in moderation make life better. Nothing about the human body is permanent!
Our ability and willingness to discuss overall health and not just visual health is much appreciated by patients.
Today, more than 95% of chronic disease is the result of food choice, toxic food ingredients, nutritional deficiencies and lack of physical exercise.
"Let food be thy medicine and medicine thy food" Hippocrates
ODs (and eye MDs for that matter) really have no business hawking nutritional supplements, with the obvious exception being AREDS vitamins.