Women In Optometry checked in with its readership in its most recent Pop-Up Poll, and many shared that the stress and impact related to the coronavirus is hitting home for them. Sixty-one percent of respondents said that their stress level is higher than normal, and 25 percent it's at an all-time high. Fourteen percent stated that they aren't any more or less stressed than usual.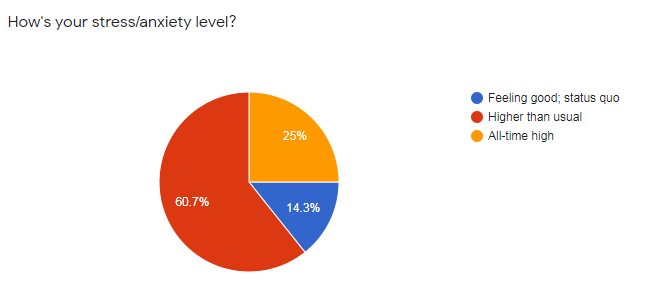 Nearly 65 percent of respondents said they were in a position of making opening and closing decisions, which are likely to be a factor in their stress levels.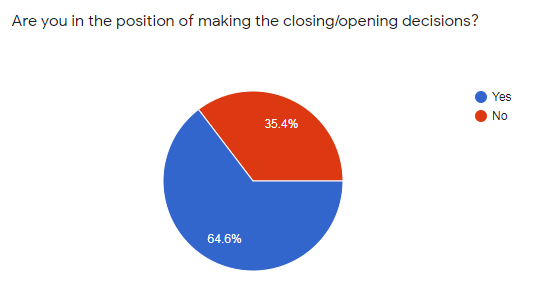 Respondents shared that their stress level was leaving them emotionally spent [42 percent], with sleeplessness [37 percent] and irritable [26 percent]. Looking for the positive, 32 percent said that they are making the most of the forced down time, and 12 percent said that they are managing as normal.
WO appreciates the feedback, advice and tips shared by the poll respondents. They've shared how they are sharing their motivation, efforts to  help their staff and ways to pass the time.
My mantra is: "This too shall pass."
Continuing to be accessible to patients and employees by phone and keeping up to date on what's available for employees if we need to lay them off. Doing as many webinars available to stay focused on what we can do when we are able to see patients again.
My OD closed the practice except for emergencies. He also "let go" the optician and his tech / office manager (me). The receptionist was kept on part time as her pay is less than the others. Not coping well. I have been in that office 22 years!
I've been reading novels, not social media/news
I have connected with a few of my immunocompromised, elderly patients that live alone and helping them out with ordering groceries online for them and just having someone to talk to. Social isolation can be hard on our most vulnerable.
I feel like I need to come up with a list of ways people can help save our businesses while we are closed- pay their overdue bill, order contacts, buy gift certificates…what else?
Bible devotions, exercise, family time
Exercise, trying to maintain a routine, dressing more casually for work but as though I might still see a patient (shower, wearing makeup, business casual clothes)
My church had a Zoom virtual happy hour. My O.D. buddies are talking about having one too!
keeping with the same schedule, working out, meal prepping
Walking with my dog, limiting TV news, checking in with friends by email/text, doing spring cleaning projects at home
Making time to business reflection and strategy which routine life doesn't always allow for.
I'm reading my way through the stack of books that I never have time to read and cleaning out closets.
Yoga and meditation
Sticking to Weight Watchers diet; continuing my 3+ year streak of getting 10,000+ steps EVERY day on my Fitbit; reading on Kindle; working on my knitting projects while streaming videos I enjoy, such as "Doctor Who"
It's been hard to stay up with email, webinars and several other communications to make sure I am doing the best for my staff, my office and myself. Using reliable sources like Visions Source, Paychex, my accountant have helped. I guess my only advice right now is to make sure you use reliable sources and networks to help.
Spending more time with my little ones and my husband. Enjoying outdoor walks and exercising at home. Rearranging home and organizing things that were on my list to do for a while.
Work related activities are keeping me busy. I appreciate the time to think more qualitatively about what I am doing.
Walking/ exercising daily outdoors; using social distancing
Exercise and time with my kids hiking or anything outdoors!
Taking it day by day.
Lots of fun Netflix and TV….no violent shows
Keeping busy with catching up on office tasks that can now be prioritized, and being my kids teacher. Thinking of sending care packages to laid off staff to keep in touch and let them know I care and am thinking about them.
Trying to stay proactive!
Talking and working with my staff very closely. Taking their concerns and ideas very seriously. Also passing funny memes back and forth with my sister for daily laughs.
I'm deferring whatever bills I can to be able to pay my staff as long as possible. Thinking of nontraditional ways to try to generate income.