Nearly all of the respondents to a recent Women In Optometry Pop-Up Poll expect an impact on their care routines, at least temporarily, as a result of the coronavirus. Sixty-three percent said that they were almost certain that new established patterns of practice would be necessary, while another 29 percent stated that they would expect to adapt these new routines at least for a while.
ODs plan to implement enhanced sanitization in patient care areas (89 percent), reception (84 percent) and in the optical dispensary (85 percent). Another 78 percent will introduce enhanced hand-washing protocol for all staff. Many ODs and staff will be wearing masks/sneeze guards (62 percent), and 24 percent said that they will want patients to wear a mask, as well. Half of the respondents anticipate a greater implementation of telehealth services.
Nearly half of ODs responding (48 percent) said they expect a return to normal routine by June and another 25 said not until July. Just 5 percent anticipated this for May, while the remaining respondents weren't sure when normalcy would return.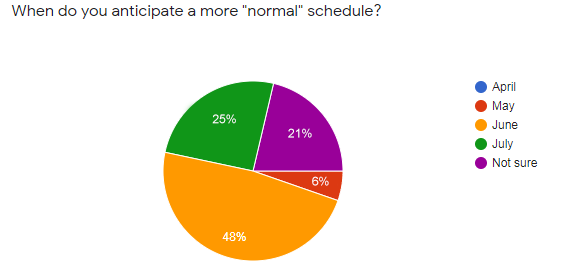 Several ODs shared some of the steps they are taking now out of the office to prepare for the next steps.
I'm doing away with paper charts altogether and becoming completely online to reduce germs.
I'm learning about and applying for CARES/PPP and telehealth.
I have ordered 2 UV sterilization units which I hope to use for sterilization of phones, keyboards, mice, hand-held equipment and charts, etc, that are otherwise difficult to sterilize.