Now and then. Would you do it all the same or make some changes? We asked participants of the latest Women In Optometry Pop-up Poll to look back at their careers and determine if they would make the same choices and career path; this is a poll we've revisited over the years to compare how your responses have evolved.
CAREER PATH
In the 2020 poll, the percentage of respondents who seemed dissatisfied has dropped. This poll showed that 35 percent of respondents stated that if they were to start their career today, they would not choose optometry, which is lower than 46 percent in November 2017 and 42 percent in February 2017.
Below is a look at the most popular responses in the two surveys.
| | | | |
| --- | --- | --- | --- |
| CAREER PATH | Aug. 2020 | Nov. 2017 | Feb. 2017 |
| Would not choose optometry | 35 percent | 46 percent | 42 percent |
| Start an independent practice from scratch | 12 percent | 9 percent | 5 percent |
| Start as an associate | 18 percent | 12 percent | 21 percent |
| Buy or buy into an existing practice | 13 percent | 12 percent | 9 percent |
| Start in an ophthalmology-owned, multispecialty practice or hospital/clinic | 6 percent | 9 percent | 15 percent |
| Start in industry, research or academia | 7 percent | 2 percent | 5 percent |
The 2020 poll asked participants who said that they would not choose optometry shared where they may have turned down another career path. Of these, 54 percent said that they would choose another medical profession, while 40 percent said they would pick a totally different career.
Many optometrists have made multiple changes in their place of work over the years since graduation either switching employers or moving from an employed position to ownership, for example, according to the 2020 poll:
36 percent moved four or more times
24 percent moved three times
23 percent moved twice
17 percent were still in their original career position
In November 2017, 48 percent were still in same modality that they started in, but 50 percent had changed.
ARE YOU HAPPY?
The November 2017 and August 2020 polls asked respondents to rate their happiness with their career now versus when they started. In 2017, 58 percent said that they were happier now, and in 2020, 49 percent said stated the same.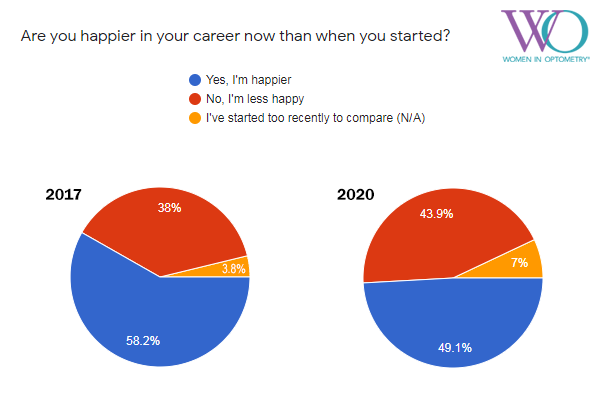 In 2020, WO asked respondents about the factors that impacted their change in happiness. Ability to help patients, flexibility of schedule, income, respect from patients and professional respect from colleagues were among the most positive influences on happiness. Negative impacts included changes from COVID-19, student loan debt, personal debt load, dealing with management and handling employees.
In 2017, 75 percent of respondents to the poll were women, and in 2020, 91 percent were women.