As the back-to-school season quickly approaches for many U.S. children, ODs across the country have begun to prepare for the inevitable third-quarter rush. One-third of poll respondents say that they feel most parents have a better understanding and concern for their kids' screen time, while 40 percent say that they haven't seen a noticeable change in the concern of parents.
Many people/ODs are already in the midst of the back-to-school season, with full schedules and bustling days in full swing. More than 70 percent of respondents say they are expecting the back-to-school rush to be at the same level or higher this fall compared to last; a quarter of respondents saying they expect this year to be more relaxed than the last.
According to the responses, here are the most common reasons why optometrists are seeing a rise in visits is because parents
40 percent of respondents said that most parents of their patients are good about having their child seen for an eye exam annually.
33 percent said that parents are just now starting to bring their kids back to the optometrist due to COVID-19.
33 percent say patients are worried about their child's screen time and long-term vision.
27 percent said that the children themselves are asking for contact lenses.
Other respondents wrote in that the practice demographics skew toward families with young children or that they take the time to talk with parents, during their eye exam, about the need for children's comprehensive exams.
One female OD wrote in noting that the pandemic allowed her office to adjust its scheduling overall to avoid the seasonal swings. "My office has been booking ahead three to four months ever since reopening after COVID-19."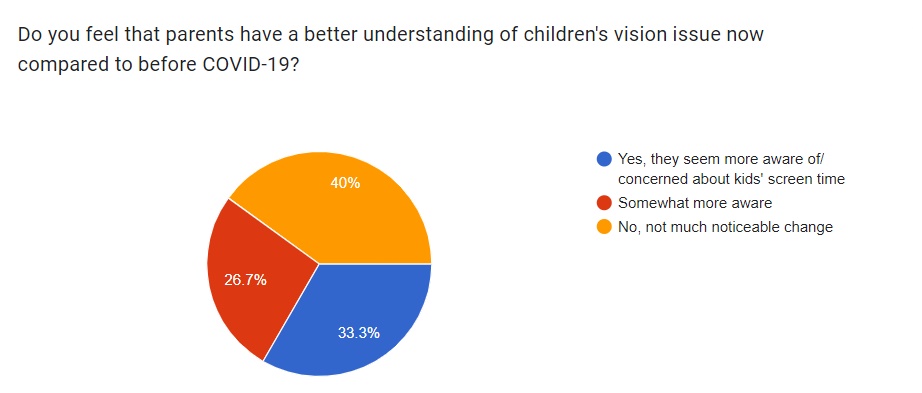 Half of all respondents were female ODs and 44 percent were male ODs. Another six percent of respondents were females, not ODs.